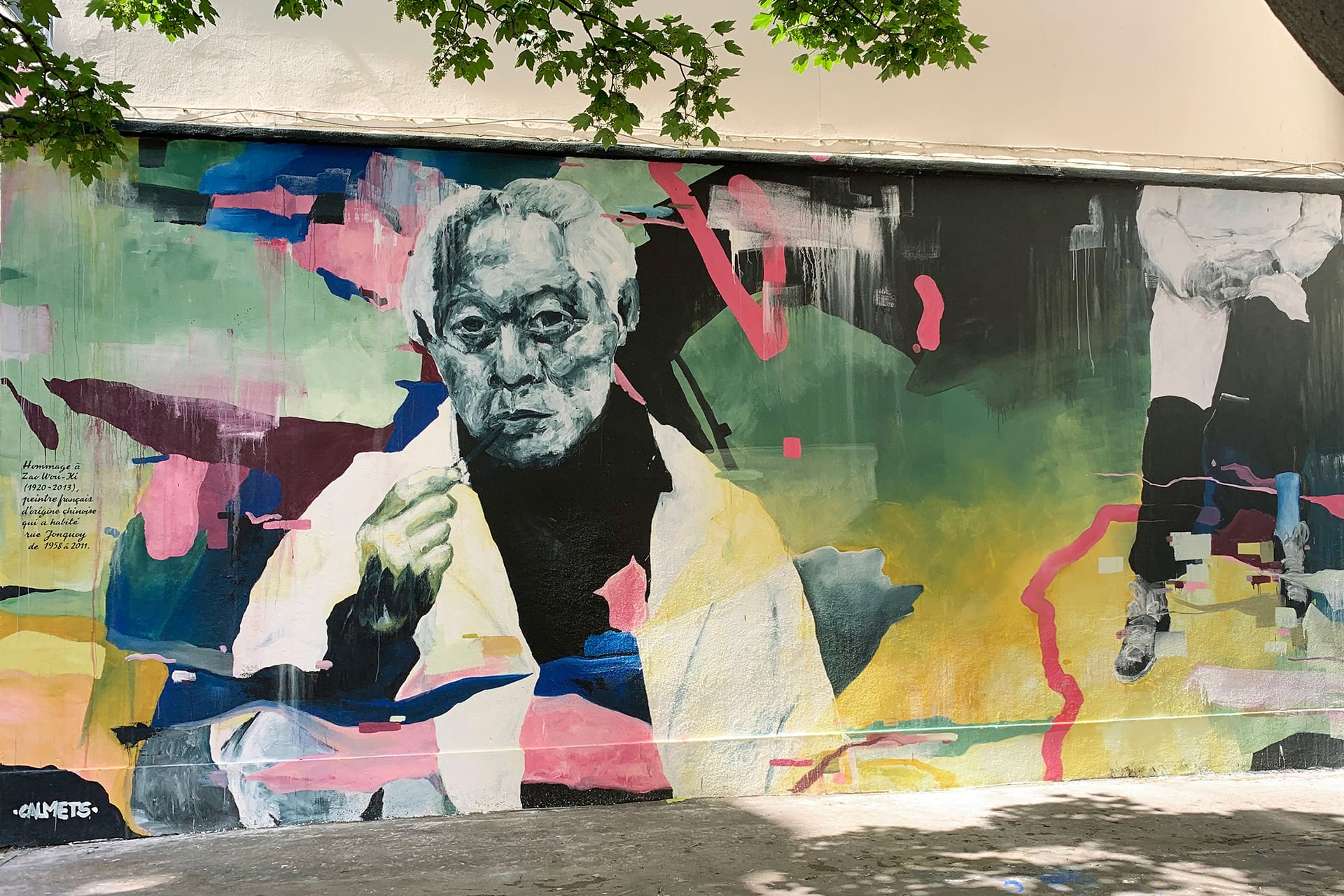 Inauguration of the mural fresco-homage to Zao Wou-Ki on the gable wall located 83 rue Didot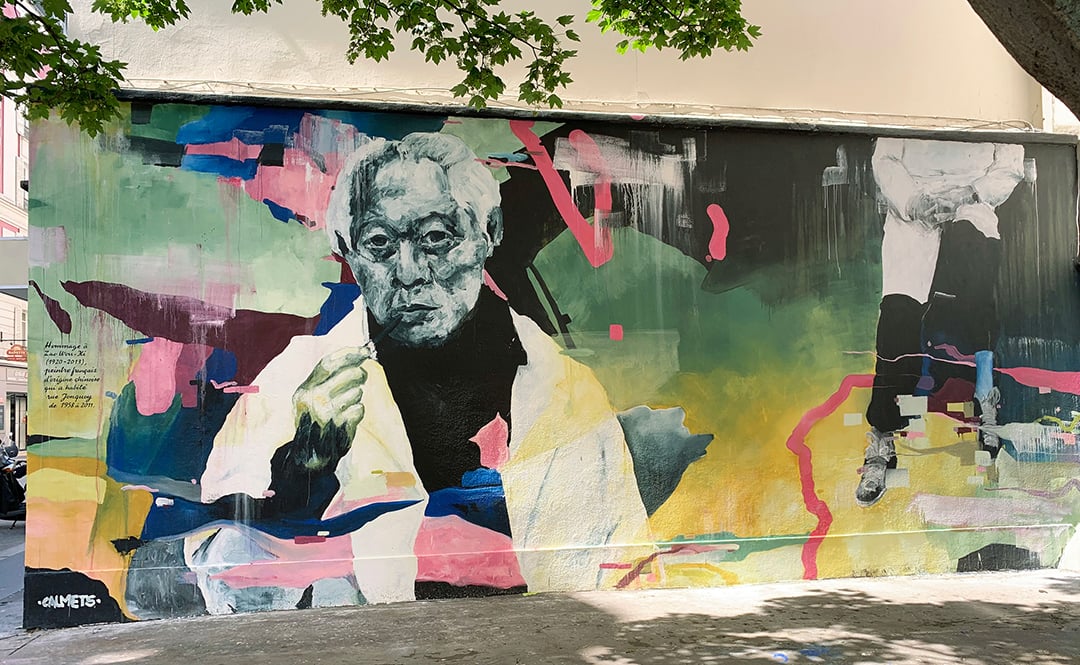 Fresco by Fred Calmets (photo AH-DR)
The Plaisance-Didot-Porte de Vanves district council and the city hall of the 14th arrondissement, in cooperation with the local residents, have appointed the GFR Association to realize a fresco-homage to Zao Wou-Ki who lived in the Rue Jonquoy, in this district, for over fifty years.
Like many artists before him, Zao Wou-Ki chose to settle down in the Montparnasse district, the Artists' Quarter : first in the Rue du Chemin-Vert where he was the neighbor of Alberto Giacometti, and then, from 1959, in the Rue Jonquoy. His studio was very close of his great friends' place, Arpad Szenes and Maria Helena Vieira da Silva, located in the Rue de l'Abbé Quarton.
This realization integrates the transformation of the corner of the Didot and Jonquoy streets. The selected wall, 4 meters high and 9 meters wide, gives onto a small square which has been rehabilitated.
This fresco aims at keeping the memory of Zao Wou-Ki. Without reinterpreting his works, it is meant to keep the image of Zao Wou-Ki, the man the local residents might have come across either in the Rue Didot or in the Rue Jonquoy, in his artist's smock and sneakers splattered with paint.
This project, developed in partnership with the Zao Wou-Ki Foundation, has been entrusted to Fred Calmets, an artist working in Poitiers. Coming from the world of tag and graffiti, he gradually moves towards street mural painting in parallel with the painting on canvas in his studio. He mixes realistic figuration and abstraction, enhancing the importance of the gesture and of the freedom of movement.
Technical data:
Location of the fresco : 84 rue Didot – 75014 Paris
Surface of the fresco : 36 m2 (4 x 9 meters)
Technical preparation of the wall : from April 29th to April 30th, 2019
Realization of the fresco : week of May 6th to May 11th, 2019
Materials used : acrylic paints for facade
Cultural mediation : Sunday May 12th, 2019 from 10 .00 AM to noon.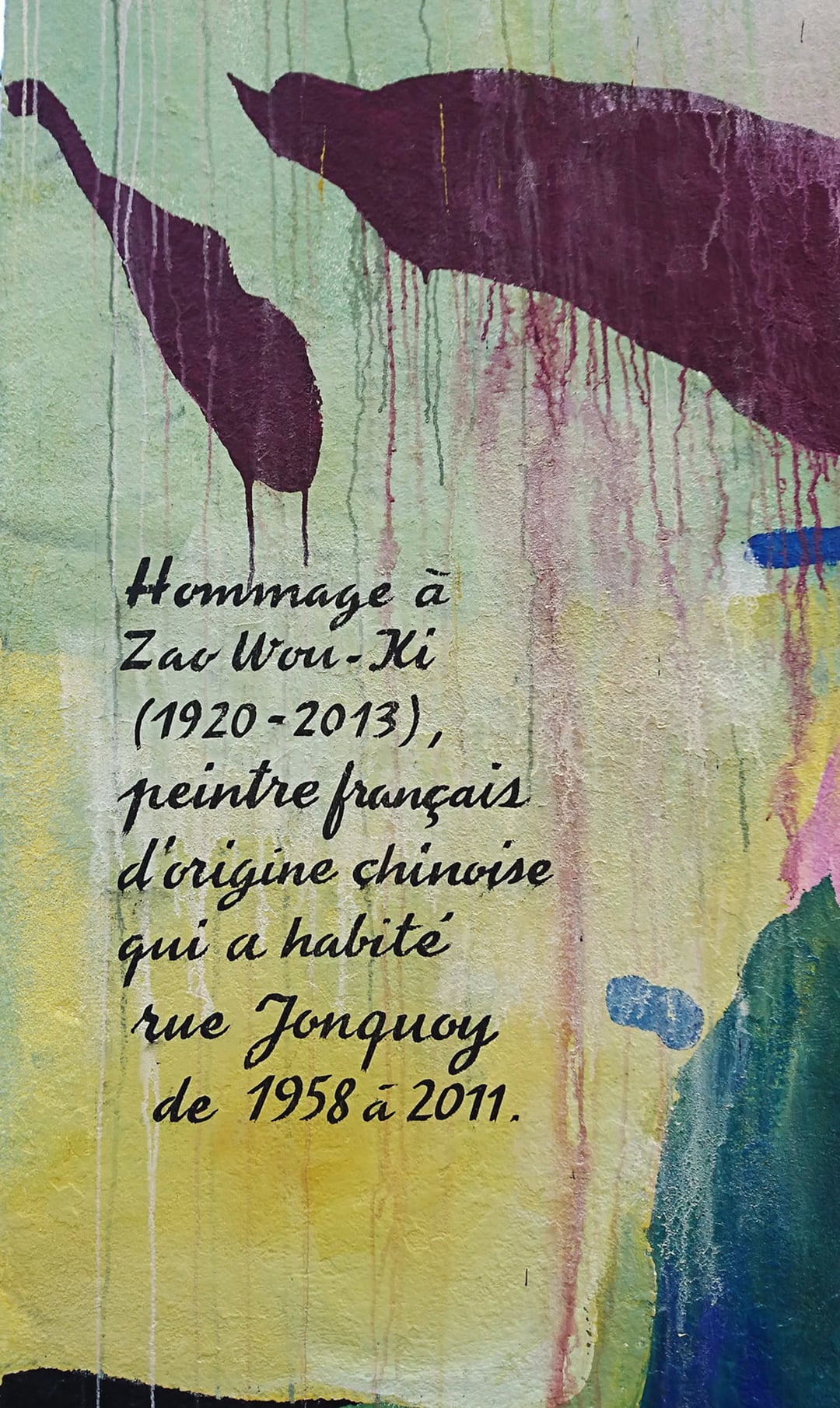 Detail of the fresco by Fred Calmets (photo YH-DR)