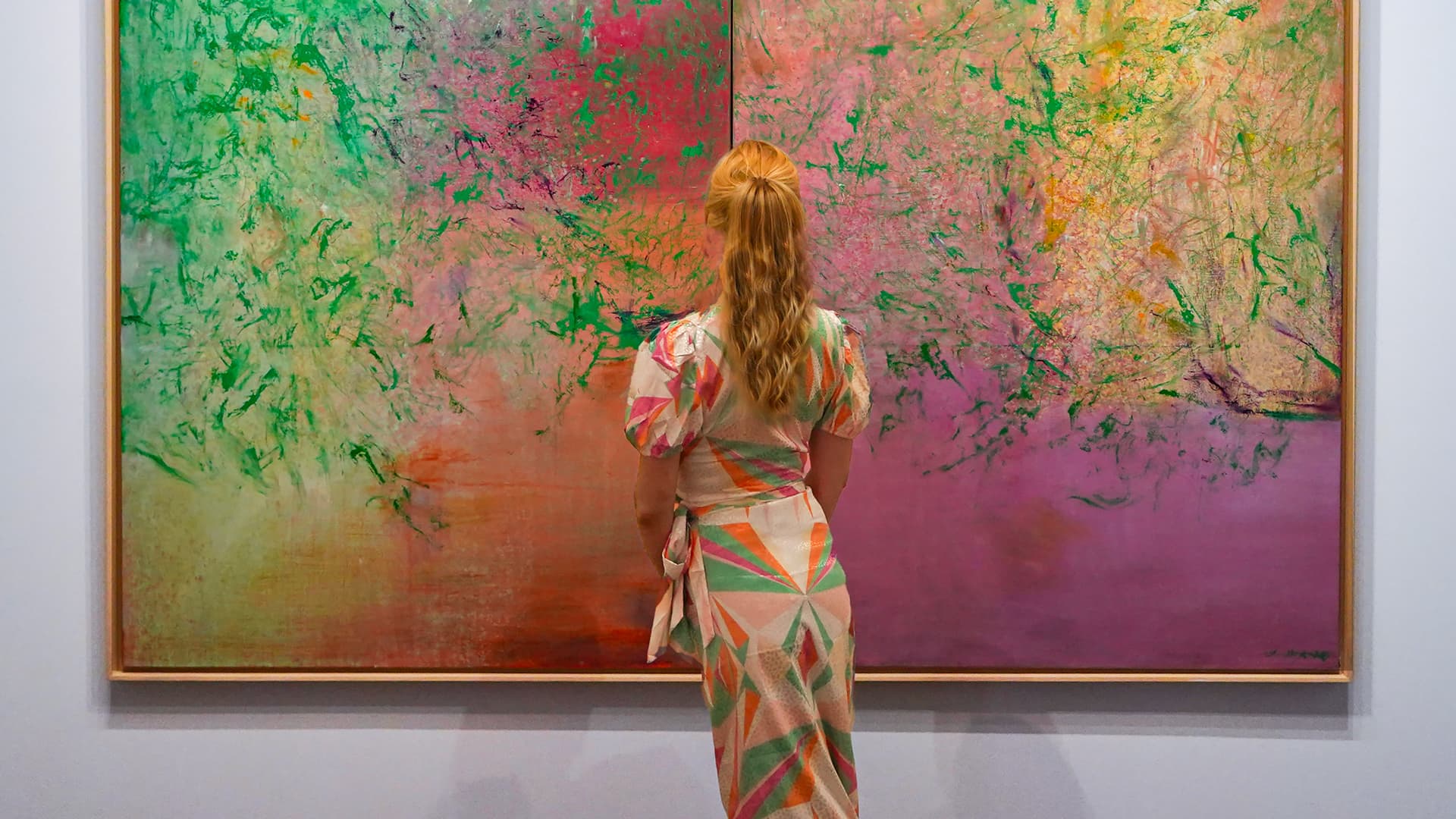 Instagram, « Matchwithart » : another vision of art and fashion
The intention of the initiator of the Instagram account called Matchwithart is to « bring together art and fashion ». By matching her clothes with selected art works, in front of which she photographs herself from behind, the creator wants to "attract our gaze" by proposing playful images inviting the viewer to enter into the spirit of the game of comparison. Passionate about the artistic world and wishing to make it more accessible for everyone, she stages herself in front of the works of many painters such as Claude Monet, Hans Hartung but also Sonia Delaunay, as well as several paintings by Zao Wou-Ki she especially likes.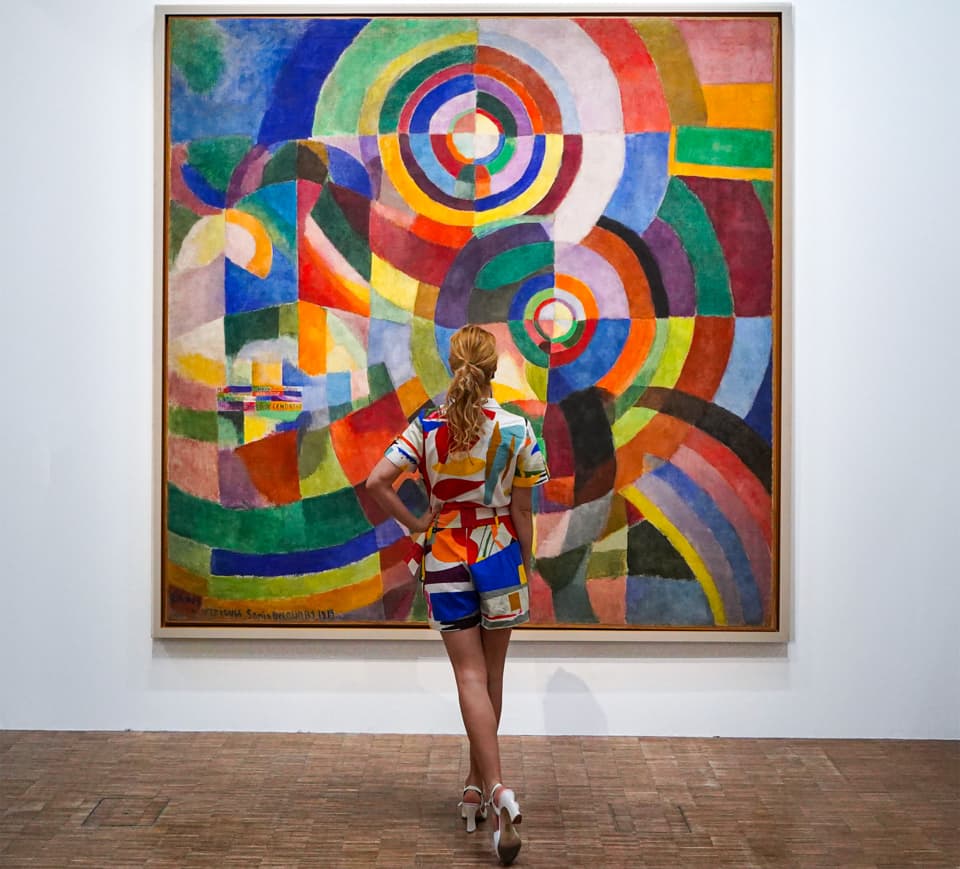 Sonia Delaunay-Pompidou. Prismes éclectiques, 1914. Courtesy Matchwithart
As she explains it in a recent interview (16.08.2020), the idea of realizing these pictures came to her when, during the visit of an exhibition with her colleagues, they draw her attention to the similarities between her garment and one of the works exhibited behind her. Intrigued by the reaction created by this unexpected match, she decides to explore this path and to use that chance to the benefit of her passion for art. She therefore realizes over three hundred photographs which enhance the similarities between selected art works and the garment of the viewer facing it: voluntary match, this time, that request an especially demanding work of both organization and research.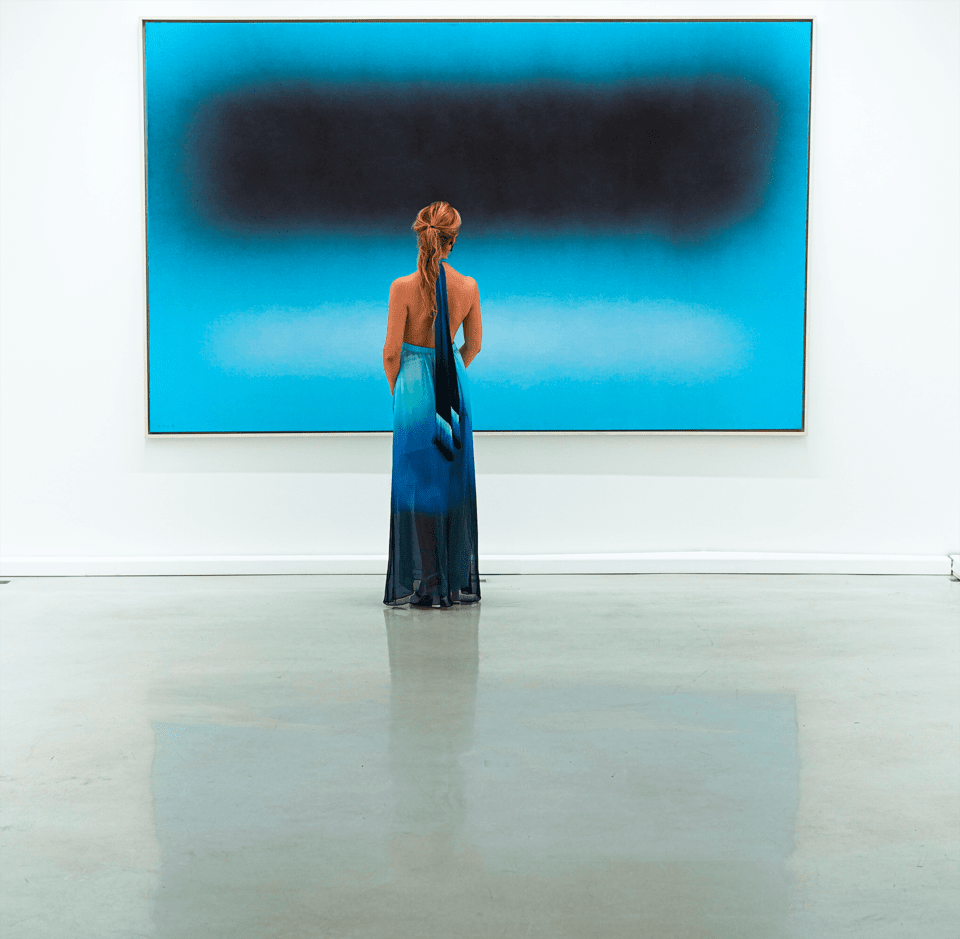 Hans Hartung-Galerie Perrotin. T1982-H31, 1982. Courtesy Matchwithart
Be the attention focused on the harmonization of colors as it is the case for the match with Hans Hartung's painting exhibited at the Galerie Perrotin, the correspondence of shapes as evidenced by the garment chosen for Prismes éclectiques by Sonia Delaunay, or also the details of the designs as the dress chosen to match Ciel by Zao Wou-Ki is a striking example, these photographs always appear as both poetic and playful. Be our gaze attracted by the garment or by the painting, it does not matter: for the creator of Matchwithart, the main thing is to arouse the curiosity of the viewer to encourage him to go to the cultural places where the works she presents are exhibited. Fully aware that the world of art and its institutions may seem to be a closed world to those who do not have the keys, she tries to "demystify" them and make them accessible to all, a goal she also pursues in her captions. Actually, she relates in them anecdotes or biographic information about the artist using a simple vocabulary, thus proposing not a closed analytical approach but an array of possible readings of the work. It is a pedagogical method that requests an important research work but which is totally suitable for the heterogeneous public at whom it is targeted.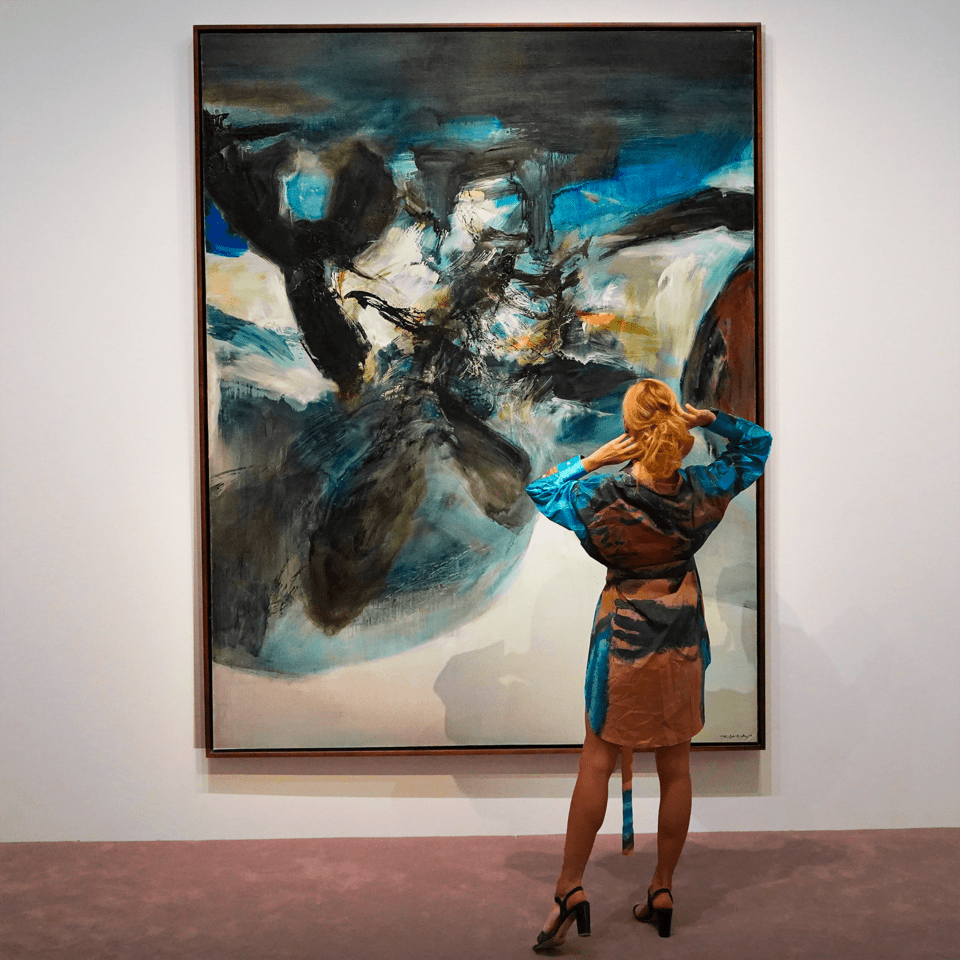 Zao Wouki-Hôtel de Caumont. 03.12.74, 1974. Courtesy Matchwithart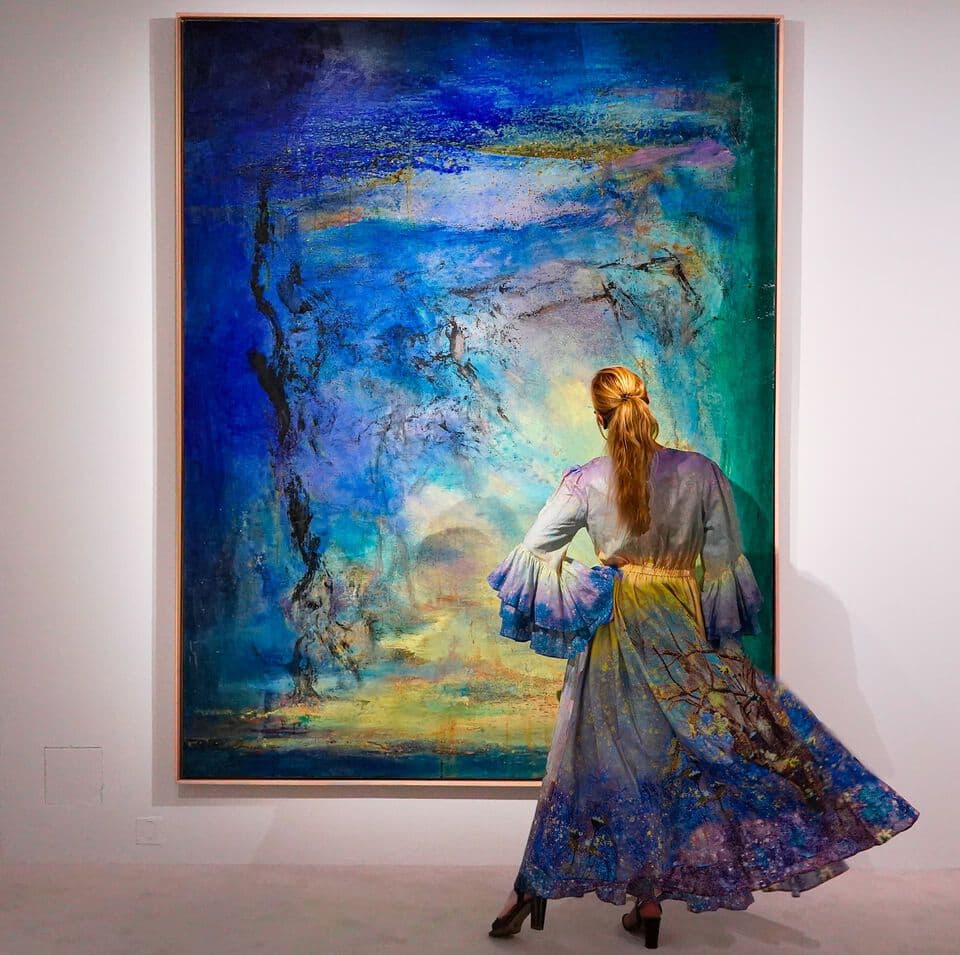 Zao Wouki-Hôtel de Caumont. Ciel, 2004. Courtesy Matchwithart
Even if social networks sometimes constitute a contested form of communication in the artistic world where the idea of original hardly agrees with digital reproduction, the creator of Matchwithart is aware of the impact they can have on a new, but also young, public. Acknowledging that the world of art not only rests on collectors and buyers, but mainly on the visibility of the artists and their works, she wishes to share her passion with the greatest possible number of people, with the ultimate goal of encouraging people to "push open the doors" of cultural places. By standing in front of the works, she enhances our role of spectator enabling us to identify ourselves with her gaze: a participative approach inviting us to reproduce this gesture of contemplation.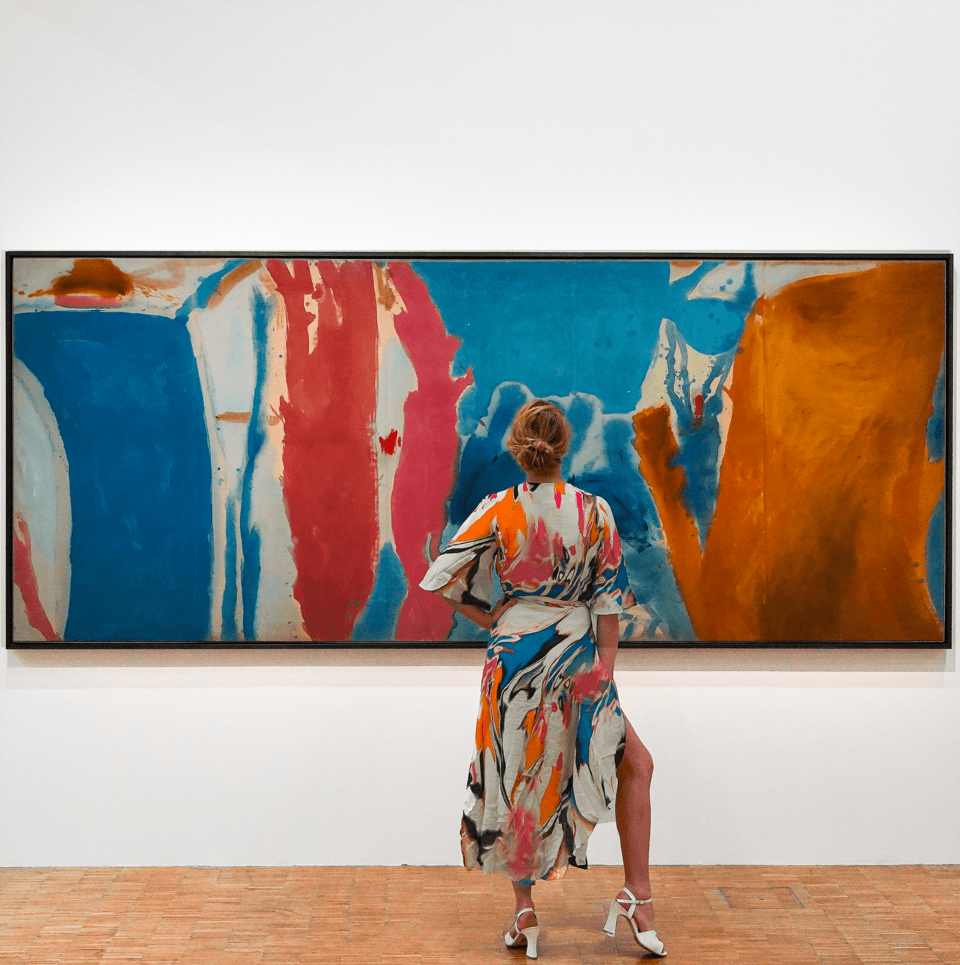 Helen Frankenthaler-Pompidou. Open Wall, 1953. Courtesy Matchwithart
In addition to presenting a significant artistic interest because of the work of photographer she proposes, be it in terms of staging, of photographing or of image processing, the creator of Matchwithart account proposes a particularly attractive mediation method. With her goal to make the artistic universe "playful" and "accessible to all", she responds to an always increasing trend of "democratization" and "modernization" that has been emerging in cultural institutions for several years now (Centre Pompidou, Galerie Perrotin, Galerie Kamel Menour, etc.). It would seem she has achieved her objective: attract a public of professionals as well as a public of art history, fashion, images and social networks enthusiasts.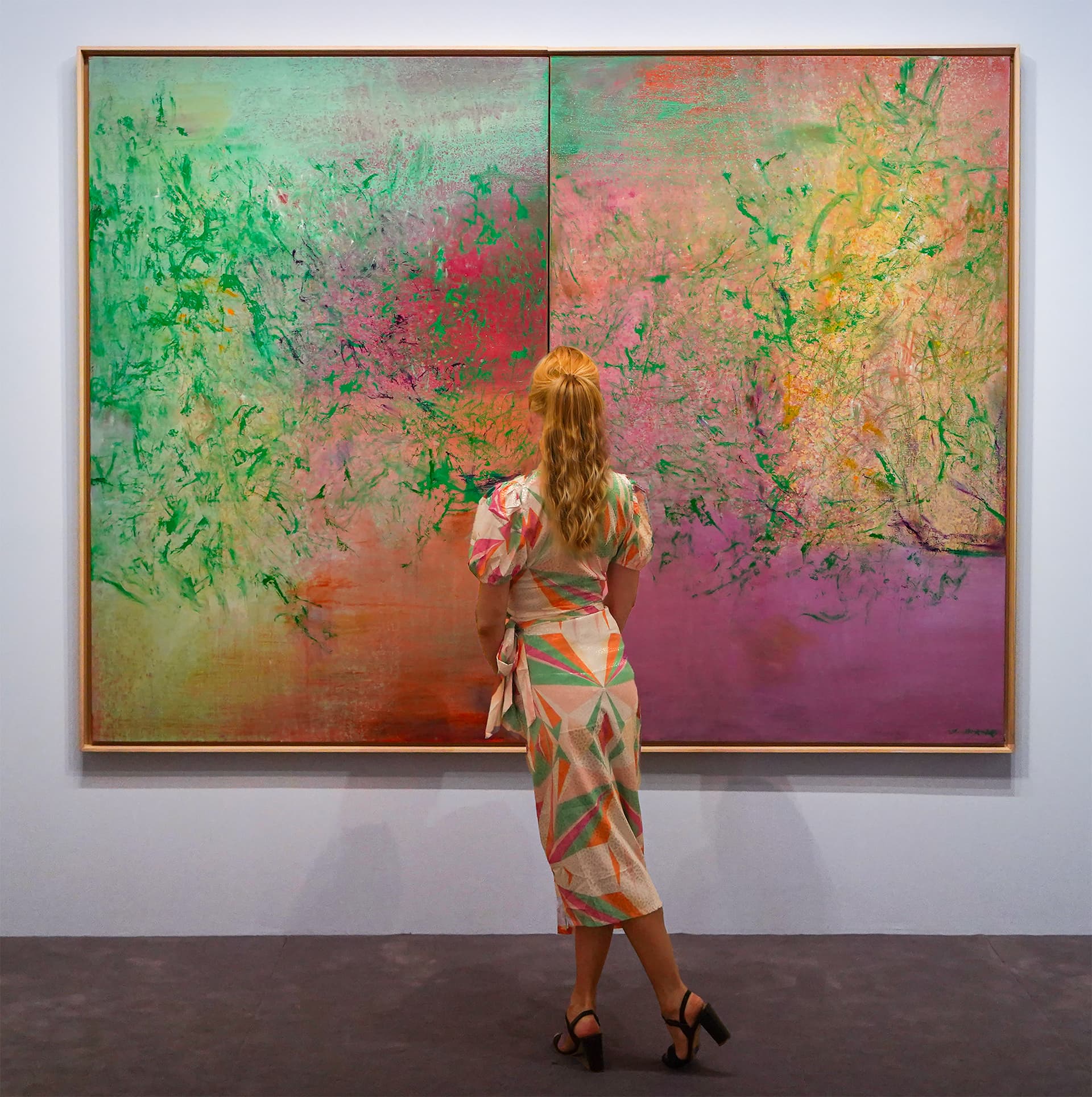 Zao Wouki-Hôtel de Caumont. Il ne fait jamais nuit, 2005. Courtesy Matchwithart