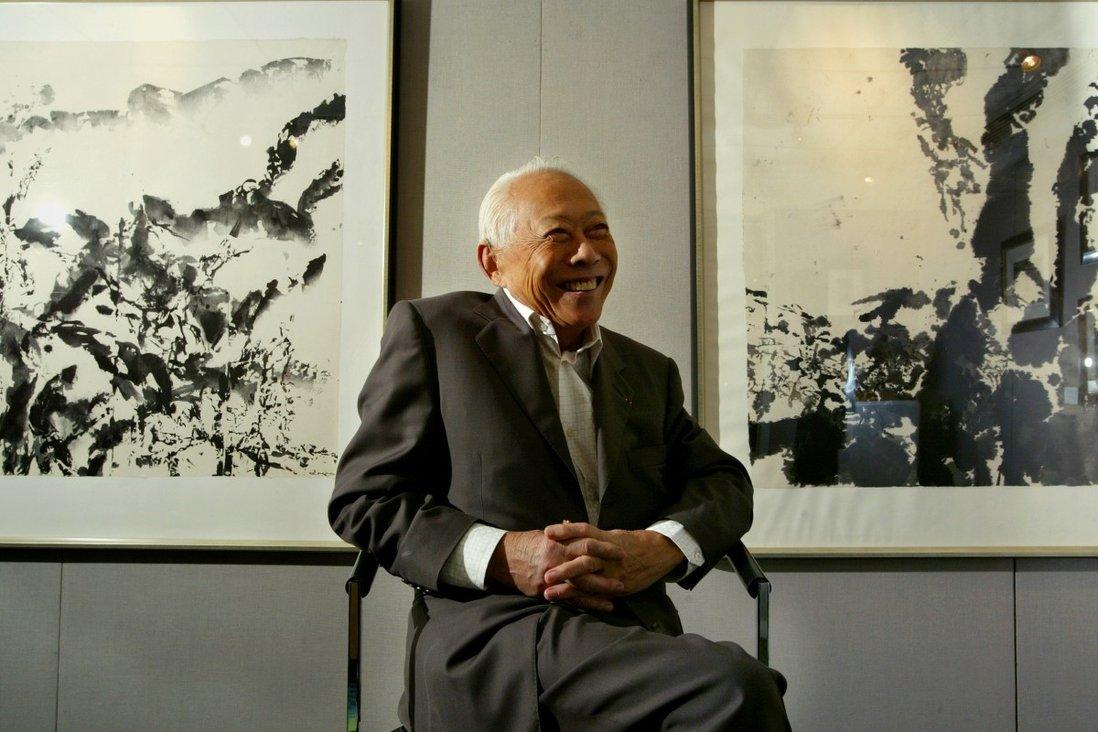 South China Morning Post, « Zao Wou-ki works donated to M+ museum in Hong Kong by the late Chinese painter's stepdaughter » by Enid Tsui Kong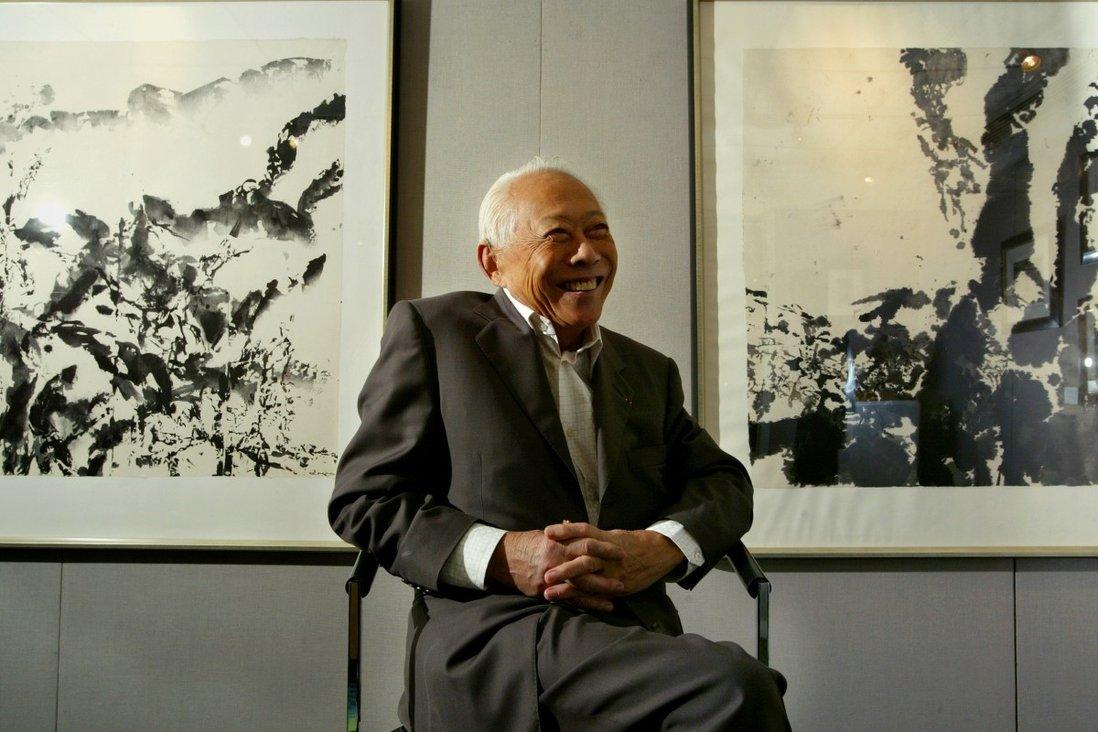 Zao Wou-ki at an exhibition of his work in Hong Kong in 2003. Photo: SCMP
Sin-May Roy Zao, the daughter of Zao's second wife, Chan May-kan, has donated 12 of his works to Hong Kong's M+ museum of visual culture.​
When Zao moved to Paris he decided not to work in ink to avoid being pegged as a Chinese painter, and at the same time discovered the art of print-making.
Nine of the 12 works Sin-May Roy Zao has given to M+ are prints by Zao, for whom the medium was a 'wonderful playground', the museum's curator Lesley Ma says.
It had all the makings of a classic romance. He a handsome Bohemian artist and she a beautiful, glamorous actress. Both were nursing a broken heart. Both were eager for a new start.
In 1958, Zao Wou-ki had flown to Hong Kong from Paris, where the Beijing-born artist had lived for a decade, after his first wife, Xie Jing-lan, left him for her lover, a fellow artist. Friends eager to distract him from his woes introduced him to a fellow divorcee, Chan May-kan, also known as May Choo and Chen Meiqin, a Hong Kong actress. It was love at first sight.
They promptly got married and Zao, Chan and her young daughter Sin-may moved back to Paris and lived among one of the most exciting artistic milieus – their home was adjacent to Swiss sculptor Alberto Giacometti's studio and the Zaos' close friends included fellow émigrés Pablo Picasso, Joan Miró and French artists Pierre Soulages and Hans Hartung.
Tragically Chan, who had a history of mental illness, would take her own life in 1972 at the age of 42.
These was the extraordinary circumstances in which Chan's daughter, Sin-May Roy Zao, spent her formative years and the context of her donation to Hong Kong's M+ museum of a collection of artworks by her famous stepfather, to whom she remained close until his death in 2013 at the age of 93.
The new museum of visual culture announced on March 10 that it had received a group of 12 works, mostly on paper, from Roy to add to its permanent collection.
Lesley Ma, the museum's curator of ink art, explains that the selection gives an unusual perspective into the practice of the man mostly known for his majestic – and extremely expensive – abstract oil paintings that are regular highlights of evening auctions in Hong Kong.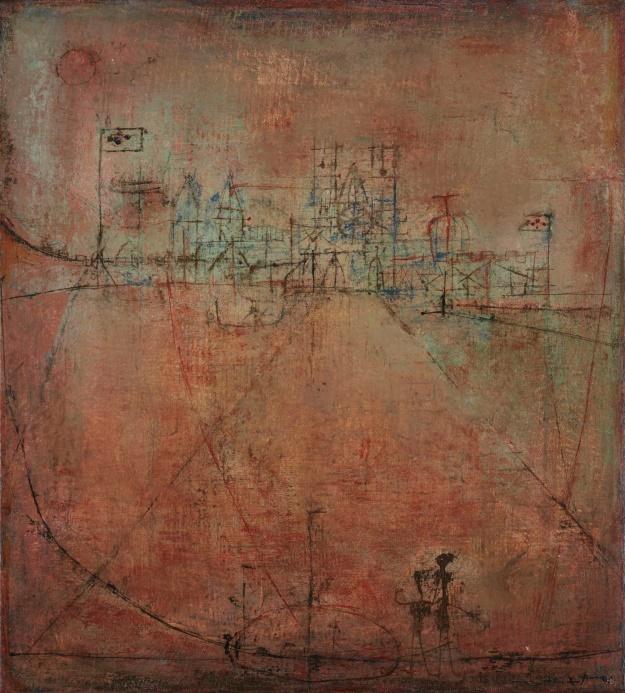 Piazza Siena (1951) by Zao Wou-ki. The oil painting forms part of the gift from Sin-May Roy Zao to M+. Photo: M+
"There are nine prints dated from 1950-2000 and these are the most under-researched among his works. When he left China and landed in Paris, he decided not to work in ink because he didn't want to be considered as a Chinese painter.
"So he decided to work in oil. But he was also introduced to the wonderful culture of print-making and his 1950 portfolio was what grabbed attention of the artist and poet Henri Michaux, who helped Zao get inducted into the Parisian cultural elite," Ma says.
The print-making process was a "wonderful playground" for Zao, she adds. "You can see how he was trying to incorporate aspects of the calligraphic and ink landscape tradition. It was an interesting primary medium for him."
The gift from Roy also includes two oil paintings from unusual periods. The first, a figurative painting titled Open Air Theatre (1945), was made when he was still in China and was notably different from the second, Piazza Siena (1951), painted just a few years later and showing clear influences from Paul Klee, whose art made a strong impression on Zao when he saw them for the first time in Paris.
Both paintings had been included in the 1996 retrospective exhibition at the Hong Kong Museum of Art, which has eight of Zao's works in its collections.
Sin-May Roy Zao when she was young, with Zao Wou-ki in 1958. Photo: Sin-May Roy Zao
Ma, the daughter of former Taiwanese president Ma Ying-jeou, who is about to leave Hong Kong to join The Metropolitan Museum of Art in New York as the Ming Chu Hsu and Daniel Xu Associate Curator of Asian Art, says she is pleased to finish her nine-year tenure at M+ by wrapping up this donation.
"When we started building the M+ collection, we had a blueprint and Zao really fit into that. But who can afford him? Our strategy from the beginning is to be practical and not spend huge amounts to get secondary works. So when this opportunity came – and this is an impeccable provenance – we were most excited," she says.
The personal biography of an artist often takes over the popular perception of their works, and with Zao, his different periods of artistic style tend to be too readily seen to coincide with his three marriages.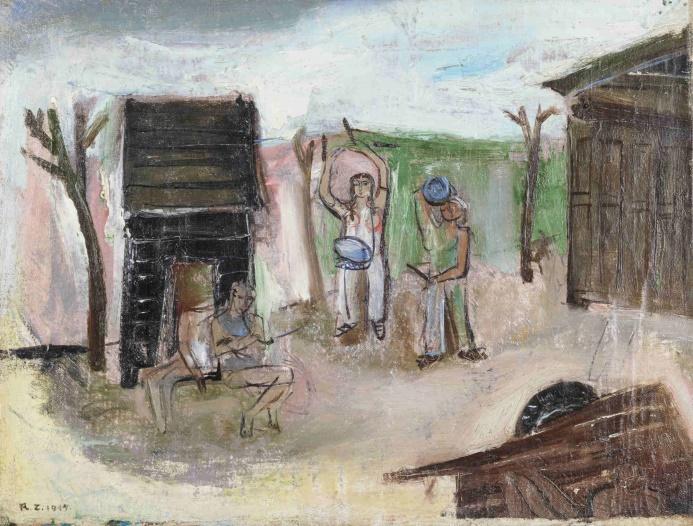 Open Air Theatre (1945), by Zao Wou-ki. The early oil painting is part of a gift from Sin-May Roy Zao to M+. Photo: M+
Zao's passionate relationship with Chan has been said to have sparked off his "hurricane period" and the dynamic composition and loose brushworks from the late 1950s to the year of Chan's death, for example. But that approach is nearly always wildly simplistic.
Arthur de Villepin, who currently has an extensive exhibition of Zao's works in his Hollywood Road, Hong Kong gallery, says he has been through the transcripts of Zao's audio recordings about his own life and have come to question many assumptions about the artist.
For example, the end of his relationship with his first gallery in France might have had as much impact as the departure of his first wife, de Villepin says.
Rural Idyll (1950), an etching that forms part of the gift from Sin-May Roy Zao to M+. Photo: M+
"Zao wanted to move from figuration to more abstract paintings but Pierre Loeb, the gallerist, told Zao not to. But Zao went ahead anyway and they parted ways in 1957. Every step of his life might have had an impact on his art," says de Villepin, whose father, Dominique, became a close friend of Zao when he was French prime minister.
Ma says: "We always have to include personal experiences to shape artist careers. It affects the way they see the world. But it is also an easier way for non-specialists to get to know more about a person.
"As a museum, however, our main job is to put him in context within the larger story of Chinese art and the development of visual culture around the world."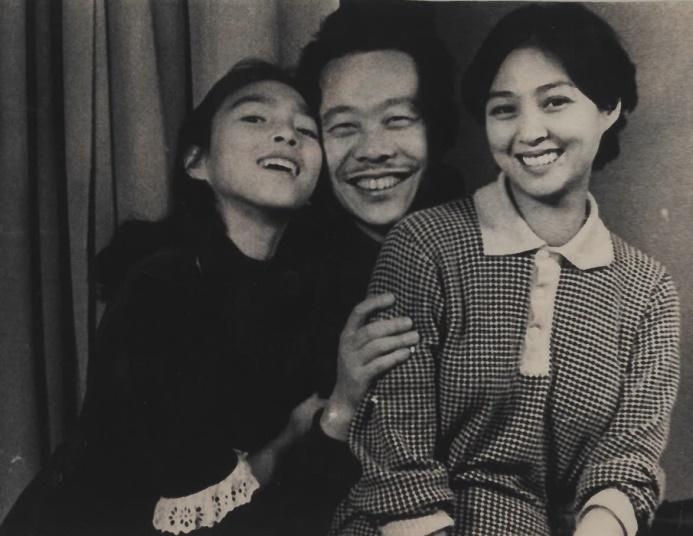 The young Sin-may Roy Zao with her parents, Zao Wou-ki and Chan May-kan. Photo: Sin-May Roy Zao
Three of the prints in the donation are featured in the exhibition "Individuals, Networks, Expressions" at M+, which is currently closed because of Covid-19 pandemic social distancing measures.