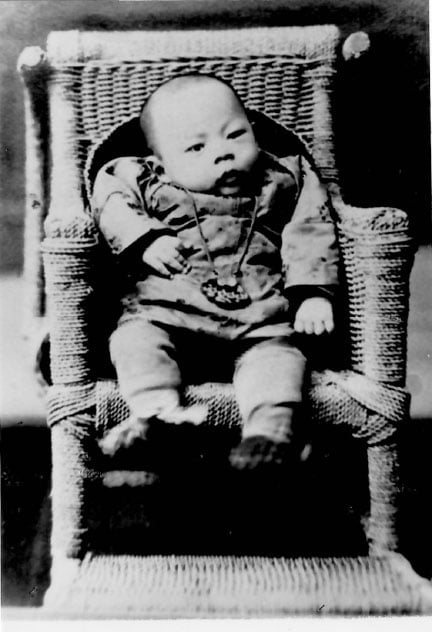 Zao Wou-Ki circa 1920. Rights reserved.
Zao Wou-Ki Was born in Beijing in February, 1920. According to Chinese documents, he was born on the 13th; on his French naturalisation documents his birthday was noted at the 1st.
His family moved to Shanghai a few months later.
He was born into the T'chao family, descended from the Song dynasty.
When he arrived in France, T'chao Wou-Ki became Zao Wou-Ki, with Wou-Ki as his given name.
The family lived in Nantung during his childhood, a small town north of Shanghai, where his father was a banker. He completed primary school and three years of secondary education.
Zao Wou-Ki drew and painted from the age of ten with the encouragement of his family, intellectuals who held painting in great respect.
His grandfather taught him to draw the characters of the Chinese alphabet, essential groundwork for the art of calligraphy.
At 15, Zao Wou-Ki passed the entrance exam for Hangzhou School of Fine Arts, where he spent six years learning from both Chinese and Western teachers.
He broke free from the curriculum early on, to start painting with oils.
In 1938, the School of Fine Arts moved from Hangzhou to Chongqing, ahead of the Japanese invasion.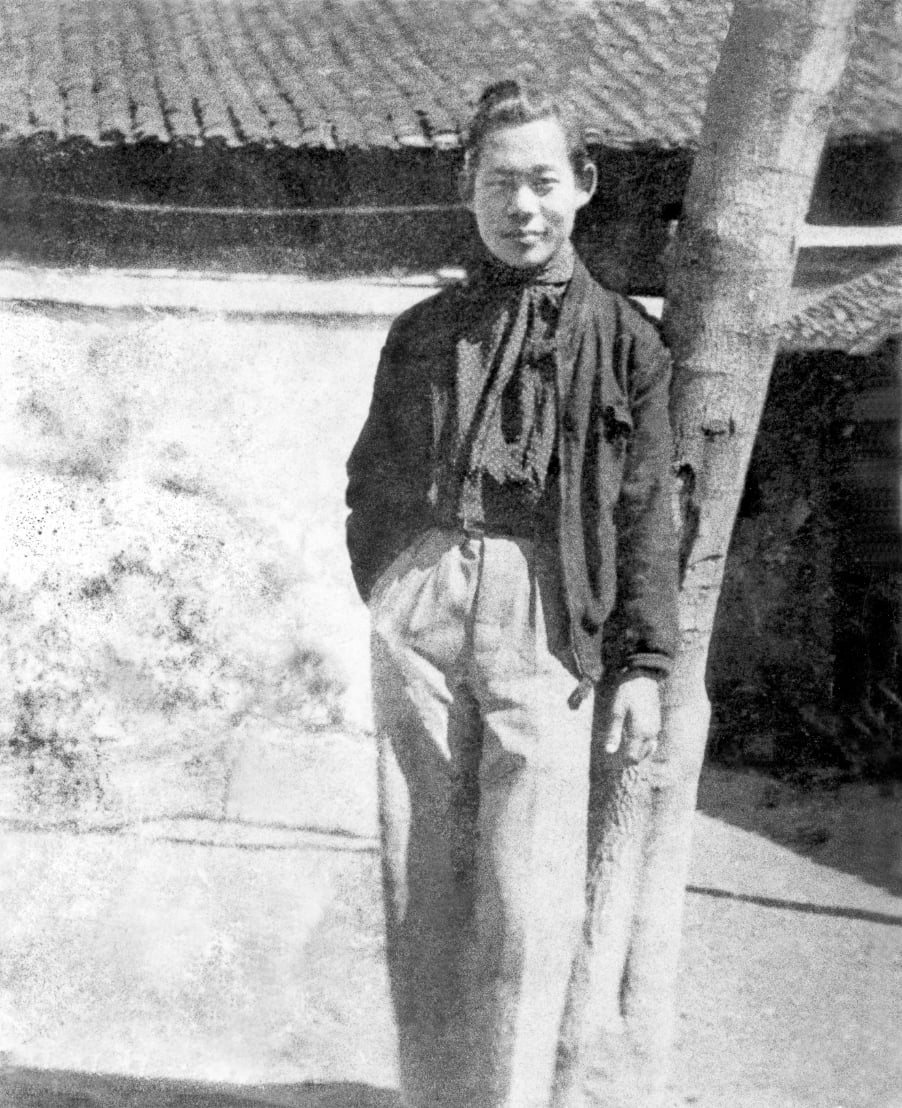 Zao Wou-Ki circa 1935, at Hangzhou School of Fine Arts. Rights reserved.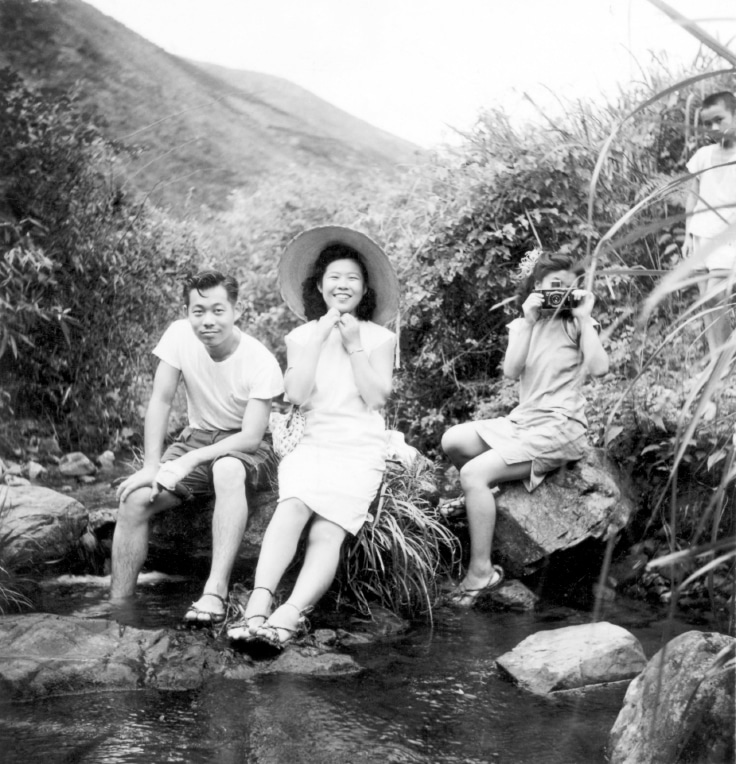 Zao Wou-Ki with his sisters in Hangzhou circa 1946. Rights reserved.
After graduating, Zao Wou-Ki worked as an assistant teacher at the school.
He held his first personal exhibition in Chongqing.
During this time, he was very influenced by Cézanne, Matisse and Picasso, working from postcards his uncle brought back from Paris or reproductions published in American magazines including Life, Harper's Bazaar and Vogue that he bought in bookshops of the French Concession.
Vadime Elisseeff, the Cultural Attaché of the French Embassy in China, who Zao Wou-Ki met in Chongqing, urged him to go to Paris.
Elisseeff took 20 of Zao Wou-Ki's works back to Paris, to show at the Cernuschi Museum's Exposition de peintures chinoises contemporaines(Exhibition of Contemporary Chinese Painters).
After a solo exhibition in Shanghai, Zao Wou-Ki decided to move to Paris,
to further his artistic studies, with his father's blessing.

Zao Wou-Ki (third from right) with his whole family at the port of Shanghai, before leaving for France, February 26, 1948. Rights reserved.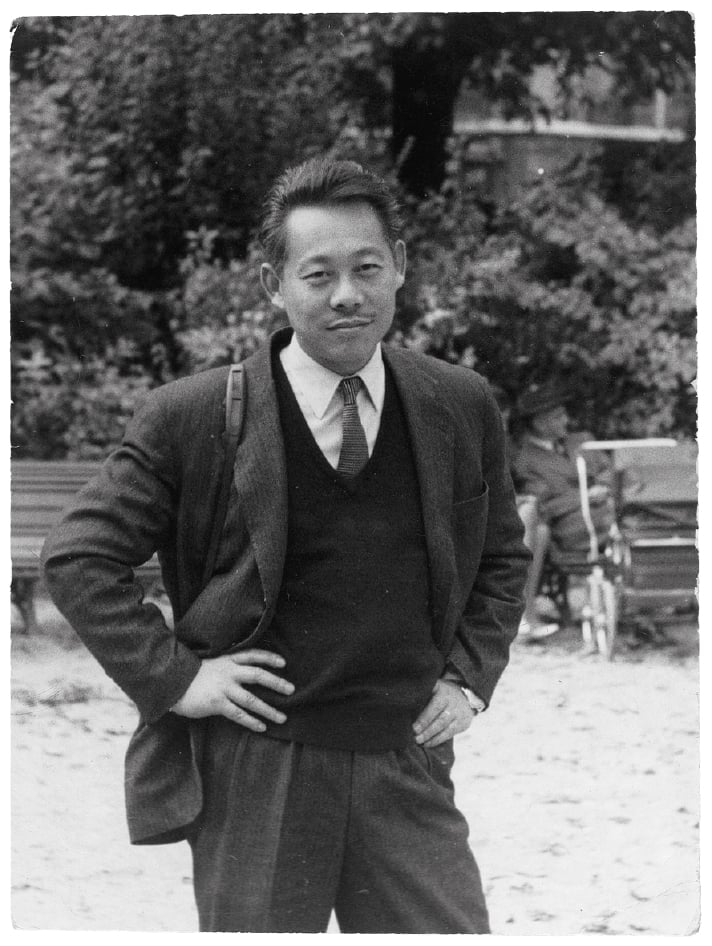 Zao Wou-Ki in Paris in 1948. Rights reserved.
He left Shanghai with his wife, Lalan, and after 36 days at sea, reached Marseille, before traveling on to the French capital, where he enjoyed exploring Paris and spent his afternoons at the Louvre.
The couple took a small studio in the creative district of Montparnasse, with Alberto Giacometti as a neighbor. He learnt French at the Alliance Française and frequented the Académie de la Grande Chaumière.
He would later say that it was in Paris that he discovered his true personality.
His cosmopolitan group of new friends included American artists Sam Francis, Norman Bluhm and Joan Mitchell; Canadian artist Jean-Paul Riopelle, Portuguese painter Maria Helena Vieira da Silva, German painter Hans Hartung and the French painter Pierre Soulages.
Zao Wou-Ki discovered lithography with the printer Desjobert.
First solo exhibition in Paris, at the Galerie Creuze.
A first collector's book, Lecture par Henri Michaux de huit lithographies de Zao Wou-Ki,
(Reading by Henri Michaux of Eight Lithograhs by Zao Wou-Ki), was published after Michaux was inspired to
write eight poems to accompany Zao Wou-Ki's first lithographs without even meeting the artist.
It marked the start of a lifelong friendship.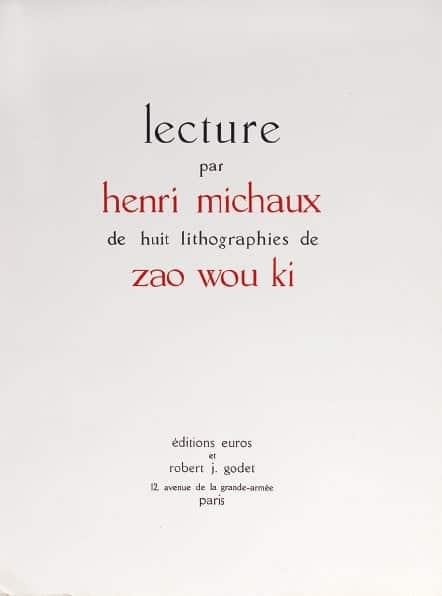 Lecture par Henri Michaux de huit lithographies de Zao Wou-Ki, 1950. Rights reserved.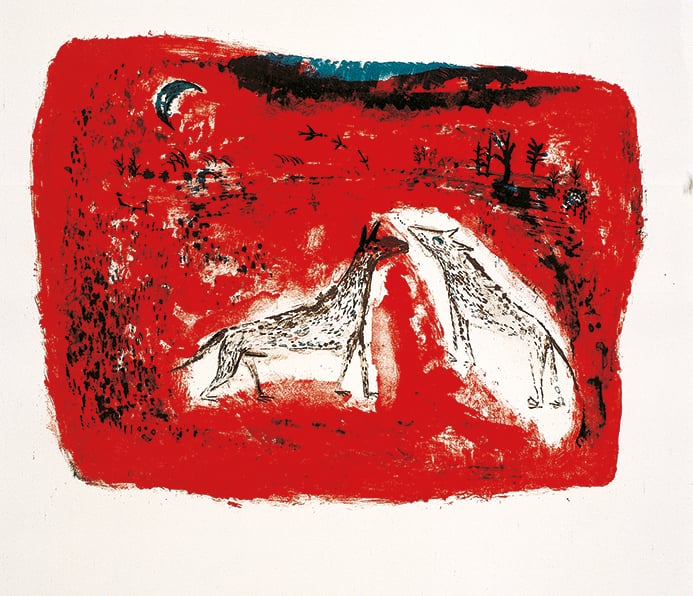 In January, gallerist Pierre Loeb visited Zao Wou-Ki's studio on the advice of Henri Michaux. The first exhibition of Zao Wou-Ki's works at his Galerie Pierre was held in June, the beginning of a collaboration that would last until 1957.
Zao Wou-Ki was introduced to the work of Paul Klee during a trip to Switzerland.
Through Klee's work, he discovered another approach to painting, one full of symbolism, that inspired him to move towards abstraction.
1953 would see a shift in style: "No more still lifes or flowers, I am aiming for an imaginary and indecipherable new writing".
Retrospective of his prints at the Museum of Fine Arts of Cincinnatti.
Zao Wou-Ki met composer Edgar Varèse in Paris, while he was working on Déserts. They would become close friends.
In 1964, a year before Varese's death, Zao Wou-Ki painted a canvas in homage to the composer.
He held his last exhibition at the Galerie Pierre and began a collaboration with Galerie de France, after meeting directors Gildo Caputo and Myriam Prevot in 1950.
With Jean-Paul Riopelle in Zao Wou-Ki's studio, in front of Foudre, 1956. Rights reserved.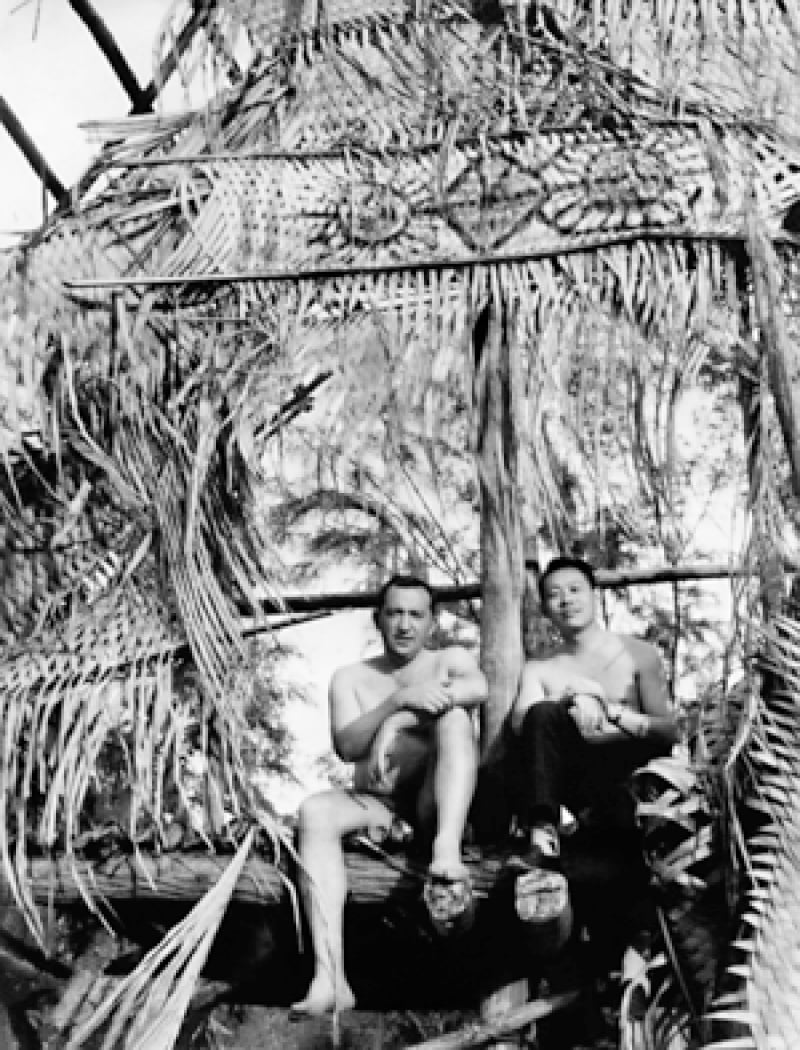 With Pierre Soulages on the island of Kawai, 1958. Rights reserved.
First exhibition at Galerie de France in Paris, where he saw his friends Pierre Soulages, Hans Hartung and Alfred Manessier again.
Zao Wou-Ki created four etchings for Les compagnons dans le jardin (The companions in the garden) by the poet René Char.
They would remain close friends until Char's death in 1988.
In the fall, he traveled to New York to stay with his brother, Wu-Wei, where he met the American dealer Samuel Kootz and made a group of friends including Franz Kline, Conrad Marca-Relli, Philip Guston, Adolph Gottlieb, William Baziotes, Saul Steinberg, James Brooks and Hans Hoffman.
He viewed American painting, especially the New York School, as more instinctive and spontaneous than European painting.
He continued his trip with a visit to Pierre and Colette Soulages in Hawaii, before traveling to Japan.
Zao Wou-Ki spent six months in Hong Kong, where he met Chan May-Kan, who later became his second wife.
The Kootz Gallery in New York showed his first solo exhibition. Zao Wou-Ki made annual trips to the city until 1965.
He bought a former warehouse in Paris, which he had renovated into a studio.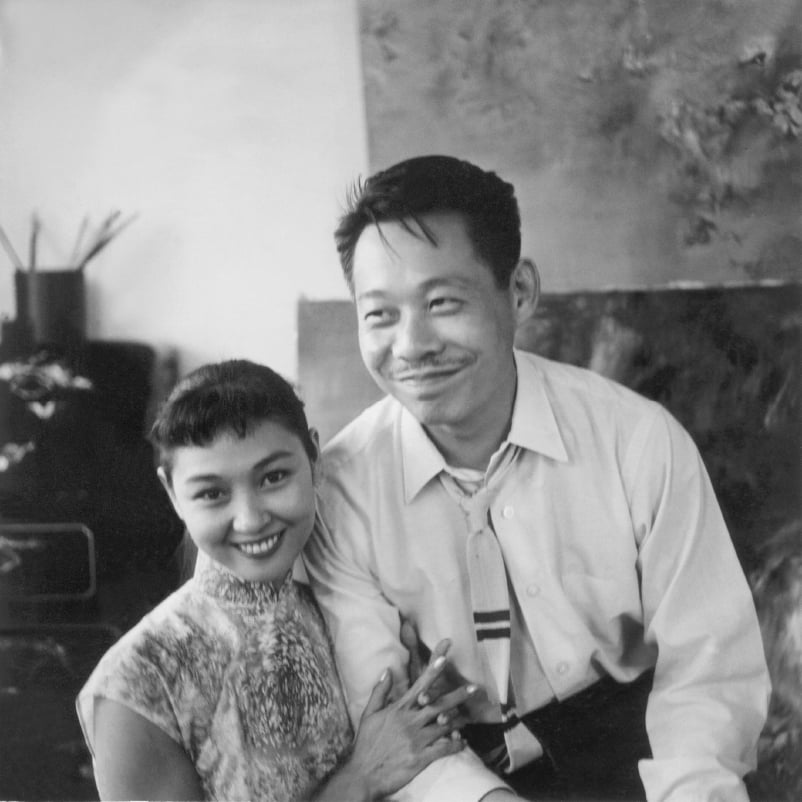 With his second wife May in Hong Kong, 1958. Rights reserved.
First exhibition at the Tokyo Gallery in Japan.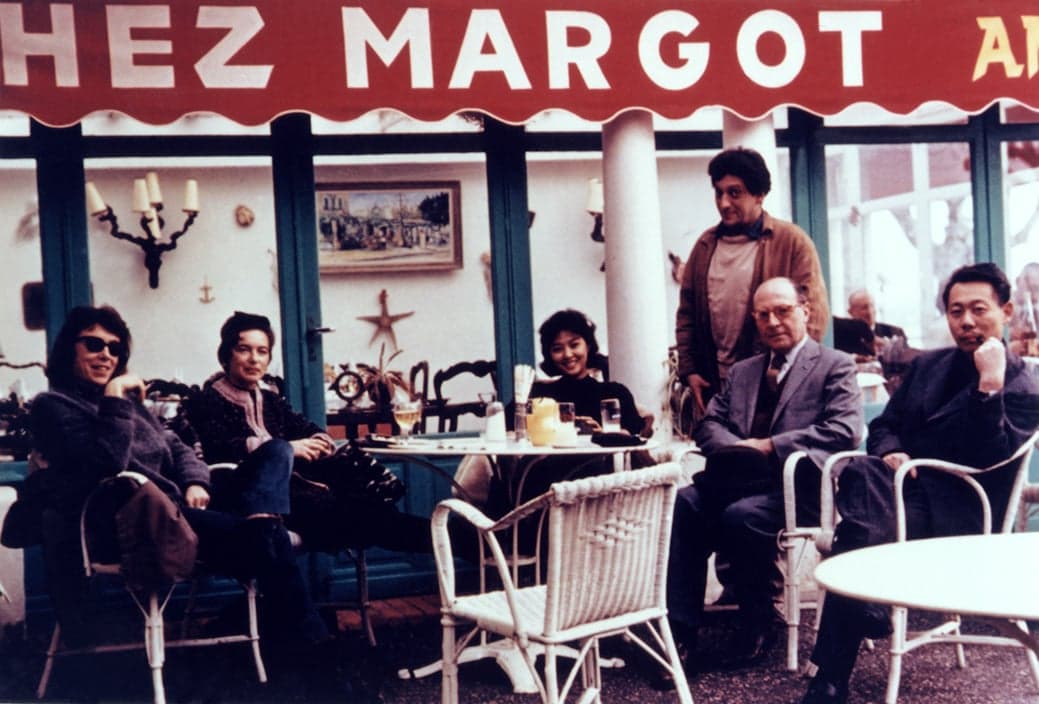 Chez Margot, Golfe-Juan, March 3, 1962. Joan Mitchell, Patricia Matisse, May Zao,
Jean-Paul Riopelle, Pierre Matisse and Zao Wou-Ki. Rights reserved.
Zao Wou-Ki made ten lithographs to illustrate La Tentation de l'Occident (Temptation of the West), by Andre Malraux, then the French Minister of Culture.
With Malraux's support, he would be granted French nationality in 1964.
His sixth and final solo exhibition at Kootz Gallery, New York, before the gallery closed down in 1967.
Retrospective at the Folkwang Museum in Essen.
Zao Wou-Ki contributed to the French section of the World Fair in Montreal.
Exhibitions at the Franck Perls Gallery in Los Angeles and the San Francisco Museum of Modern Art.
Retrospective at the Musée d'Art Contemporain de Montréal and the Musée du Québec.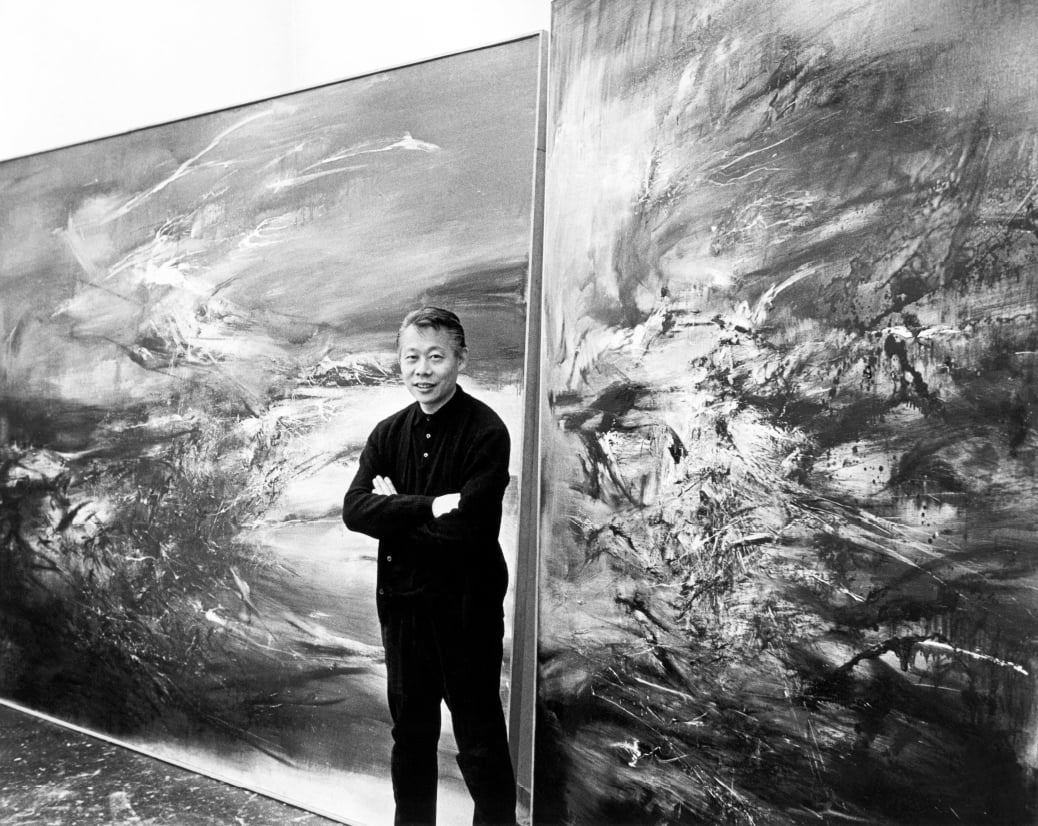 In his Paris studio with 29.09.64 and an early version of 21.09.64, around 1964. Photo Budd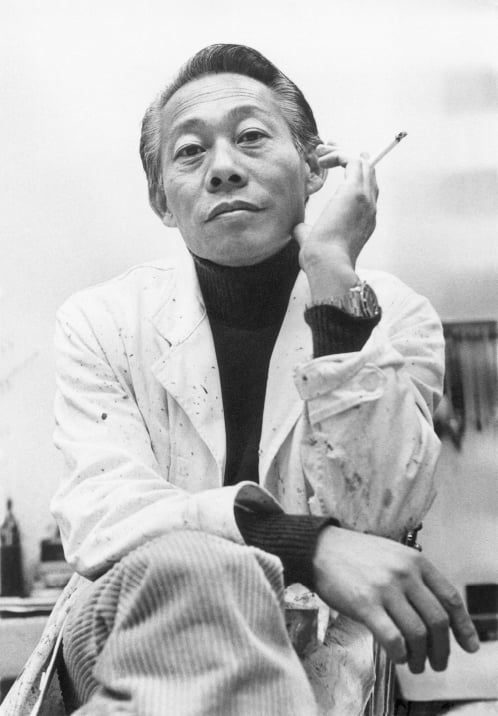 Zao Wou-Ki in his Paris studio, 1973. Photo Mohror
Zao Wou-Ki led Oskar Kokoschka's summer seminar (painting section) in Salzburg.
Zao Wou-Ki rediscovered the challenging technique of China ink after encouragement by Henri Michaux.
His wife, May, died in March.
Later that month, Zao Wou-Ki left for China to visit family he had not seen since 1948.
After long months of grieving, Zao Wou-Ki resumed work to make large-scale paintings that would be exhibited in 1975 at the Galerie de France.
He made trips to China in 1974 and in 1975.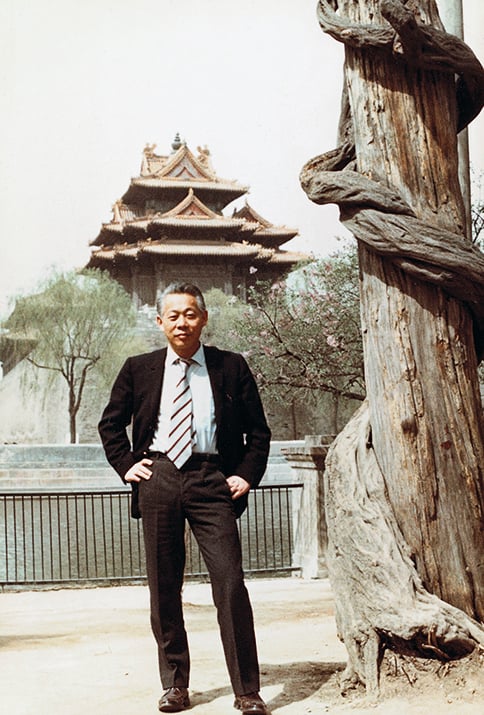 At the Forbidden City in Beijing, 1973. Rights reserved.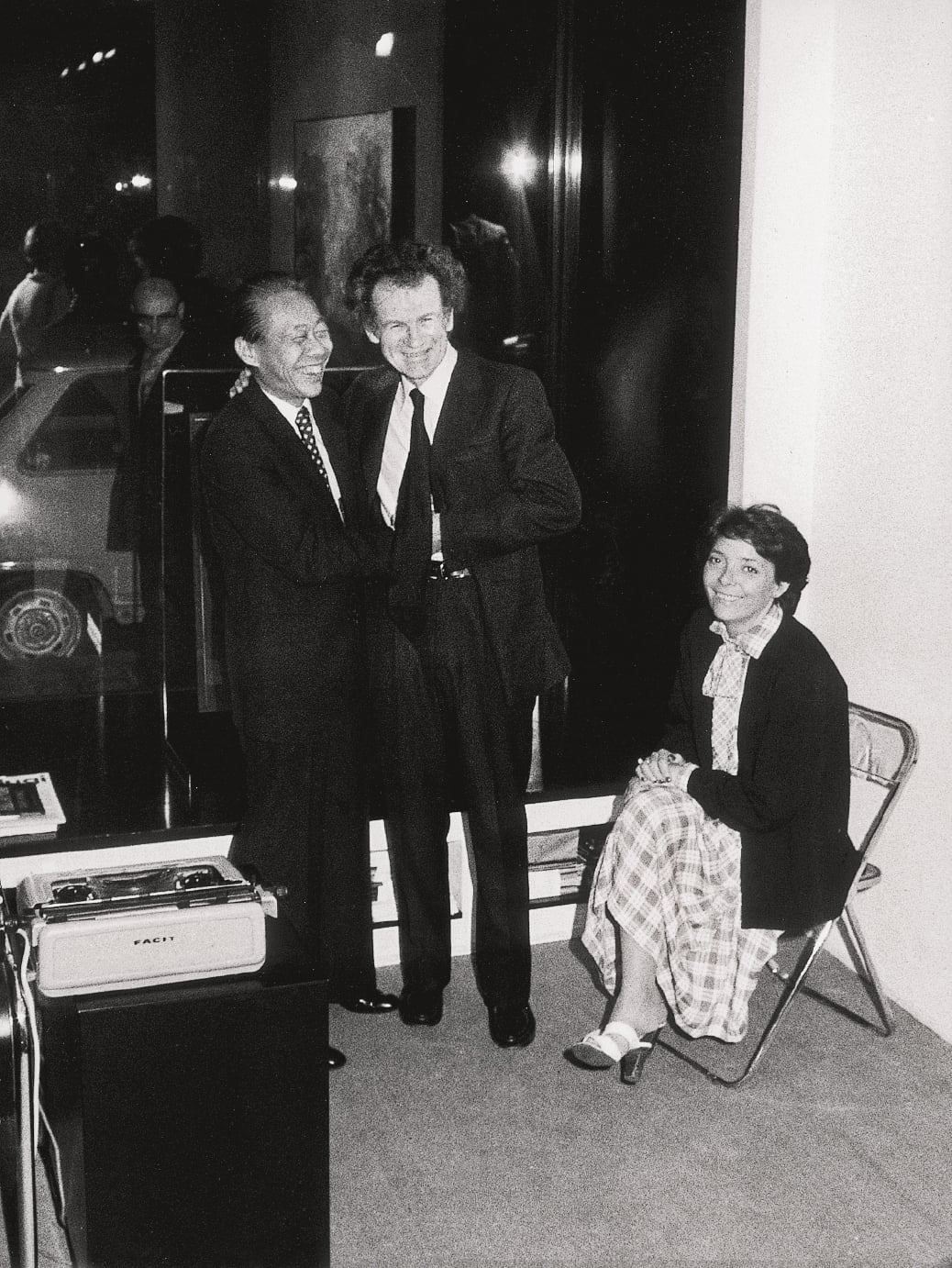 Opening of the exhibition at Galerie Joan Prats in Barcelona in 1976, with Jean Leymarie and Françoise,
who the artist would marry the following year. Rights Reserved.
Fourteen paintings, most of them in large-scale, were shown at the Fuji Television Gallery in Tokyo, including Hommage à André Malraux (Homage to André Malraux) (200 x 525 cm).
Thanks to its director, Susumu Yamamoto, works entered several of the most important Japanese collections, including the Hakone Museum and the Ishibashi Foundation.
Zao Wou-Ki and Françoise Marquet married in July.
Zao Wou-Ki donated work to the Bibliothèque nationale de France, completing a series of etchings already kept by the Cabinet des Estampes. The donation was presented to the public the following year.
New York art dealer Pierre Matisse visited his studio and offered to show paintings and drawings at his gallery.
After not showing work in the city for 15 years, the project was of major importance for Zao Wou-Ki. 
Zao Wou-Ki was appointed teacher of mural painting
at the École Nationale Supérieure des Arts Décoratifs.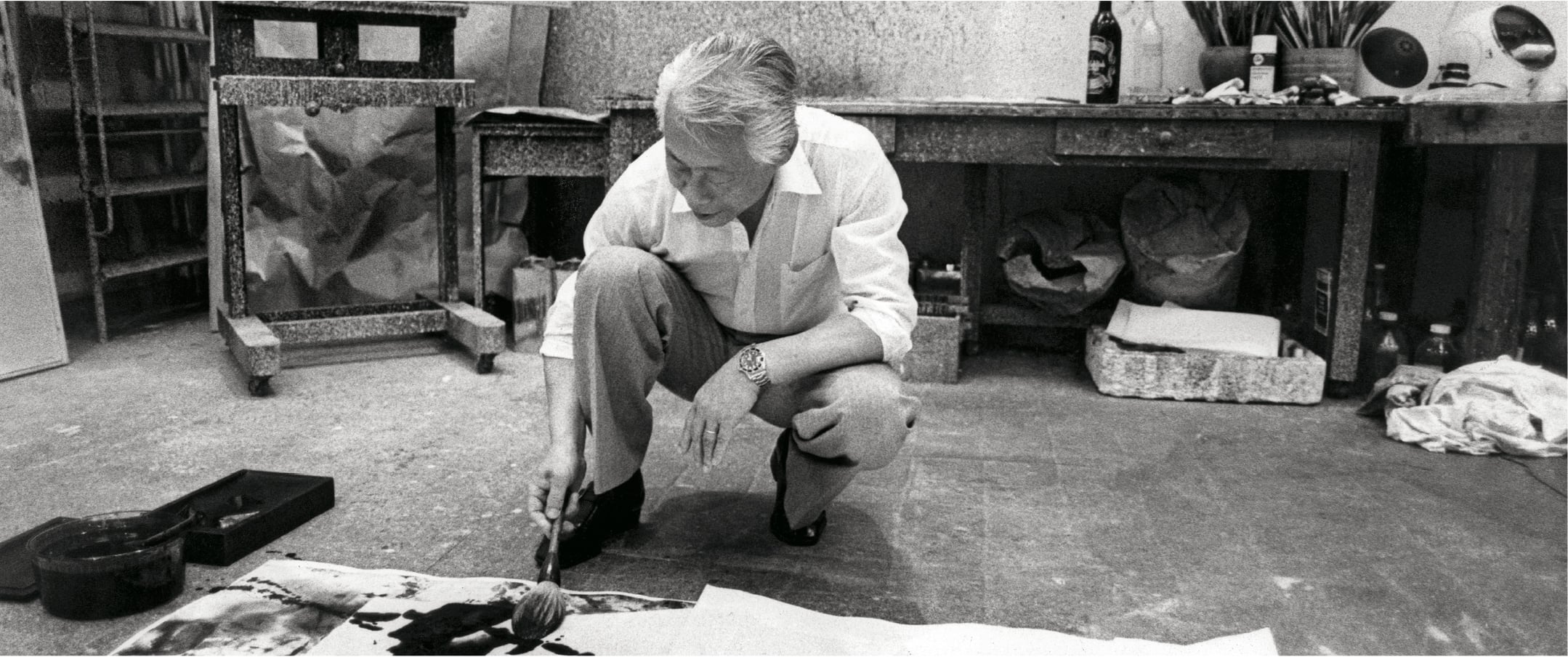 Painting with China ink in his Paris studio, 1981. Photo Serge Lansac.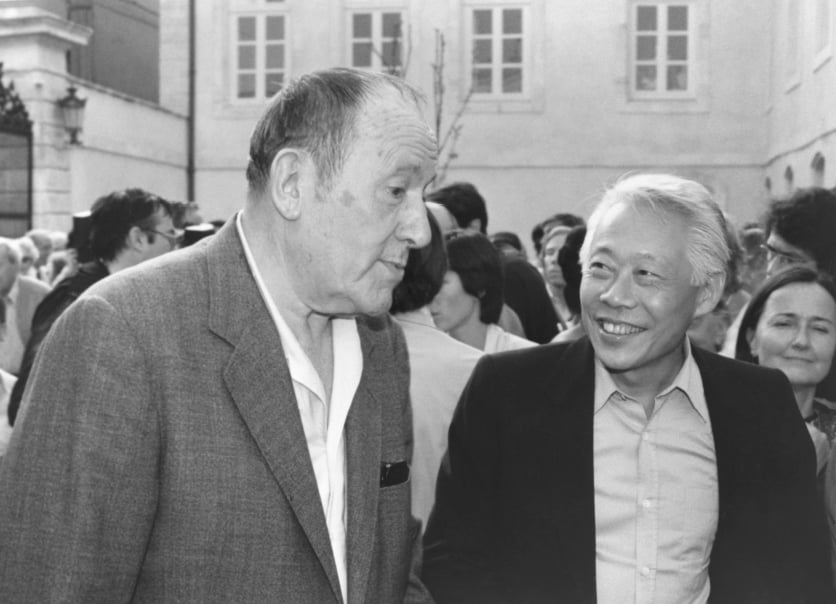 With René Char at the opening of the Hôtel de Campredon –
Maison René Char à l'Isle-sur-la-Sorgue, 1982. Photo Françoise Marquet
Two triptychs completed for the exhibition at the Galeries Nationales du Grand Palais in Paris, the first time a French museum had shown an exhibition of his work.
The show then traveled to seven museums in Japan, Hong Kong and Singapore.
Zao Wou-Ki and Françoise traveled to Hong Kong, Shanghai, Hangzhou and Xian, before going to Beijing on the invitation of the Association of Chinese Artists.
Zao Wou-Ki traveled to Taipei, Taiwan where the National Museum of History was showing his work.
During the trip, he had dinner with the great Chinese painter Zhang Daqian a few months before his death.
On the invitation of the Chinese Minister of Culture, Zao Wou-Ki exhibited in his native land for the first time since 1948, showing work at the National Museum in Beijing and also in his old school in Hangzhou, which had since become the Zhejiang Academy of Fine Arts.
By now, his work had become too important for him to continue with his responsibilities as a teacher and Zao Wou-Ki resigned from his post at the École Nationale Supérieure des Arts Décoratifs.
Zao Wou-Ki was made an Officier de l'Ordre de la Légion d'Honneur by the French Minister of Culture, Jack Lang.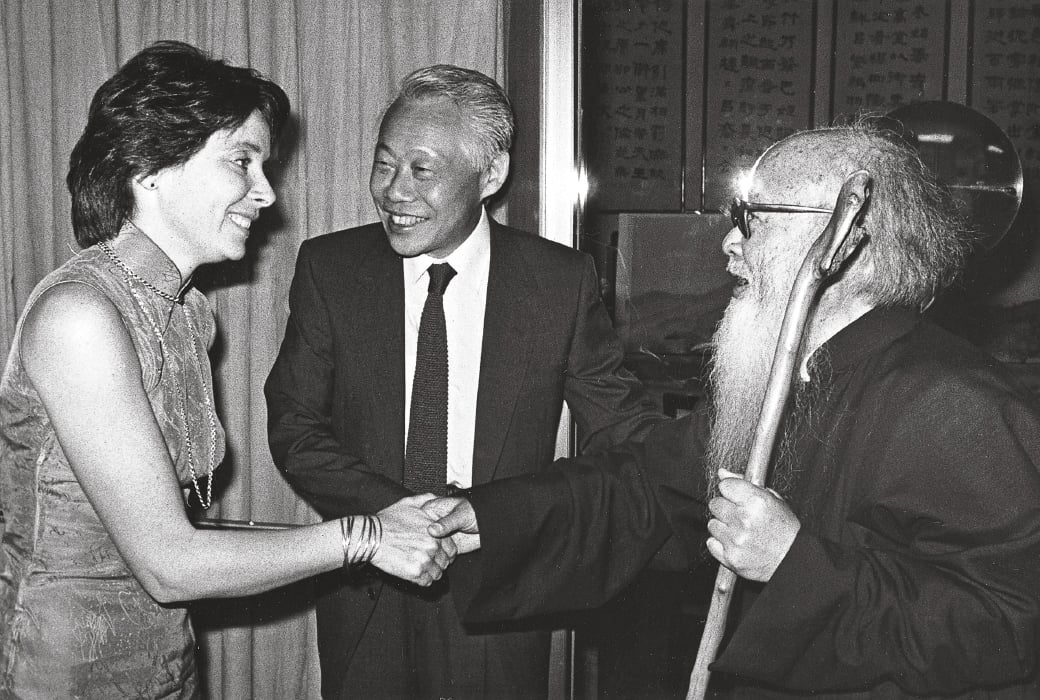 With Françoise in the studio of painter Zhang Daqian in Taipei, 1983. Rights reserved.
Zao Wou-Ki and his wife Françoise were invited to teach painting and charcoal drawing, and museology respectively, at Hangzhou School of Fine Arts.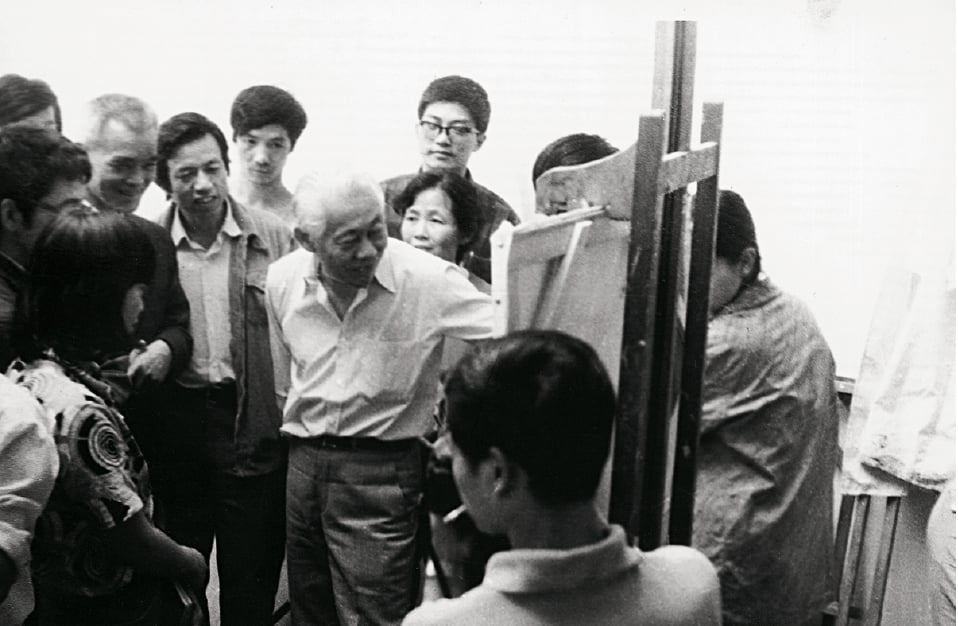 In class at Hangzhou School of Fine Arts, 1985. Rights reserved.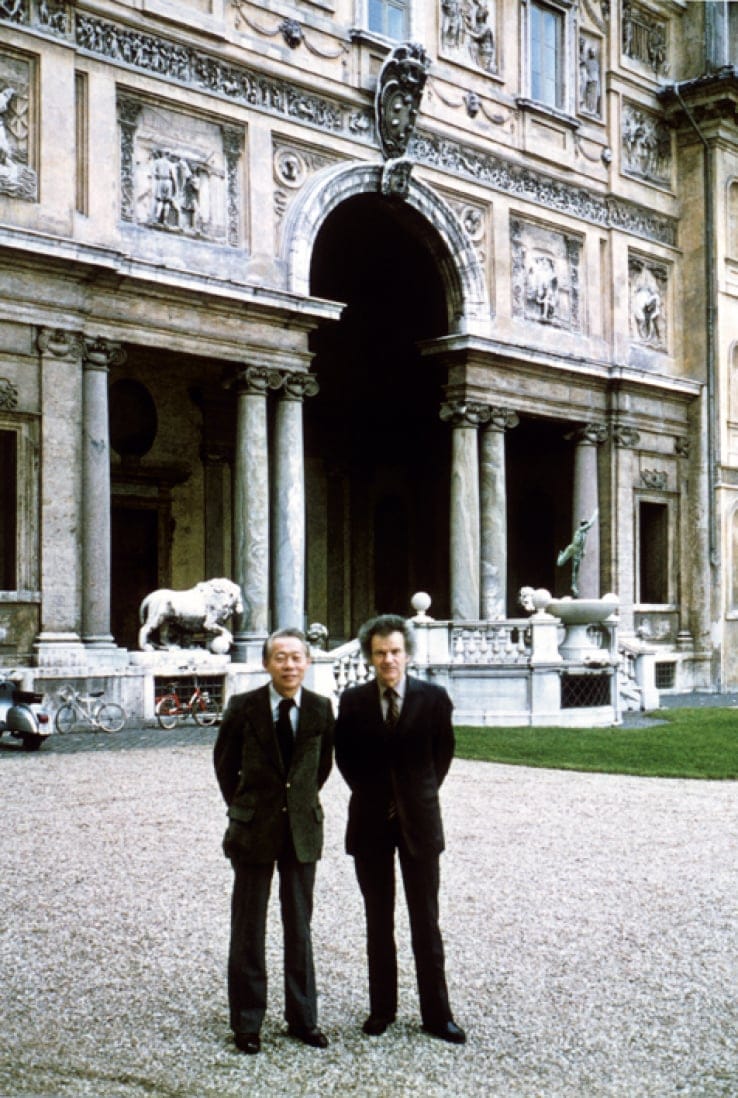 With Jean Leymarie at Villa Médicis in Rome, 1986. Rights reserved.
The Galerie de France, Paris, showed his largest triptych ever made (2.80 m x 10 m), a commission recently completed for Raffles City in Singapore, built by his friend I.M. Pei.
It was to be Zao Wou-Ki's last exhibition at the Galerie.
Exhibition at Artcurial marking the 40th anniversary of his arrival in France.
Exhibitions at the Fondation Vasarely in Aix-en-Provence
and the Calouste Gulbenkian Foundation in Lisbon.
Promoted Commandeur de l'Ordre de la Légion d'honneur by François Mitterand, the President of the French Republic.
Awarded the title of Docteur honoris causa by the Chinese University in Hong Kong.
Retrospective at Taipei Fine Arts Museum.
Retrospective at the Centro Cultural de Arte Contemporaneo in Mexico.
Zao Wou-Ki is awarded the Praemium Imperiale for painting, in Japan.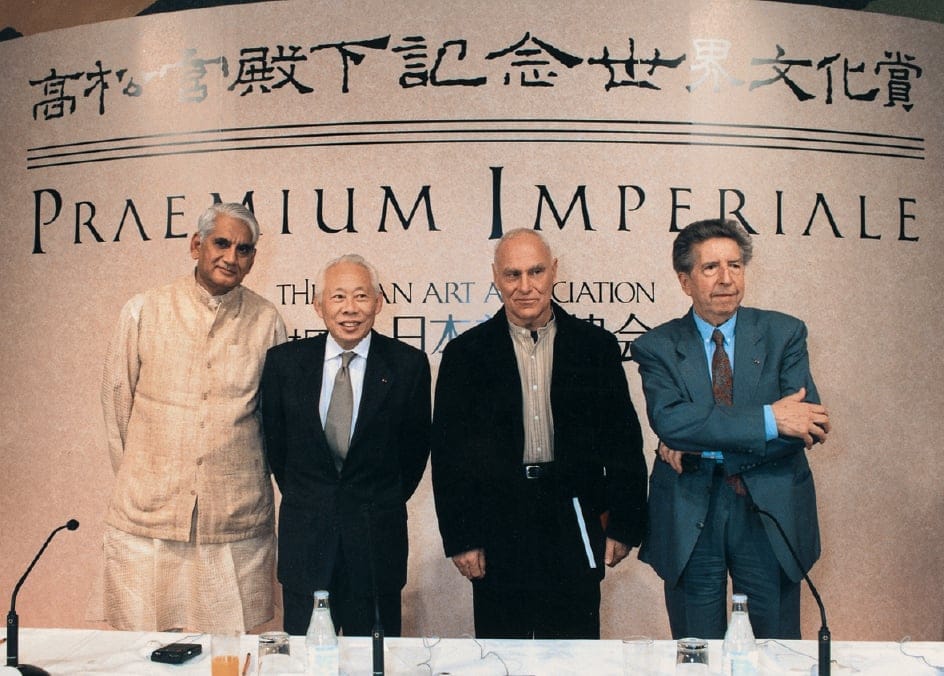 Winners of the Japan Art Association Praemium Imperiale in 1994: Charles Correa (architecture),
Zao Wou-Ki (painting), Richard Serra (sculpture) and Henri Dutilleux (music). Rights reserved.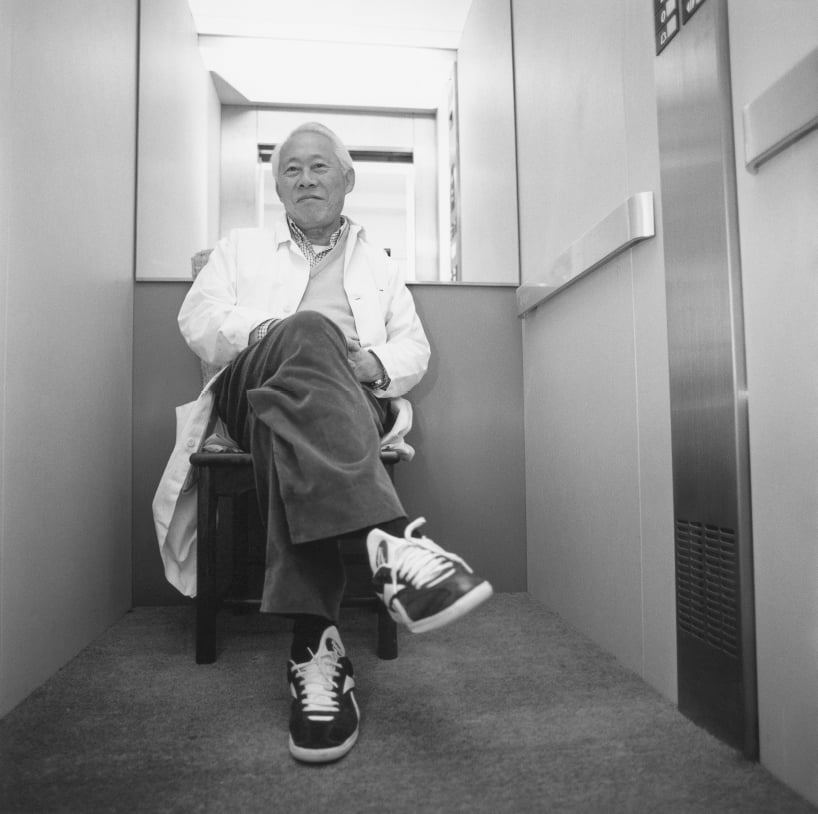 Portrait, 1997. Photo Chou
Retrospective at Kaohsiung Museum of Fine Arts in Taiwan and the Hong Kong Museum of Art.
Zao Wou-Ki began work on an ambitious project for the future underground station Oriente in Lisbon. The ceramic wall panel was later inaugurated in May 1998.
Zao Wou-Ki traveled with French President Jacques Chirac on an official visit to China.
He attended the opening of the Miho Museum designed by his friend, I.M. Pei.
He traveled to China for a major retrospective organized by the AFAA, L'Oreal and the Shanghai Museum.
It later toured to the National Art Museum of China in Beijing, and Guangdong Museum of Art, in Canton.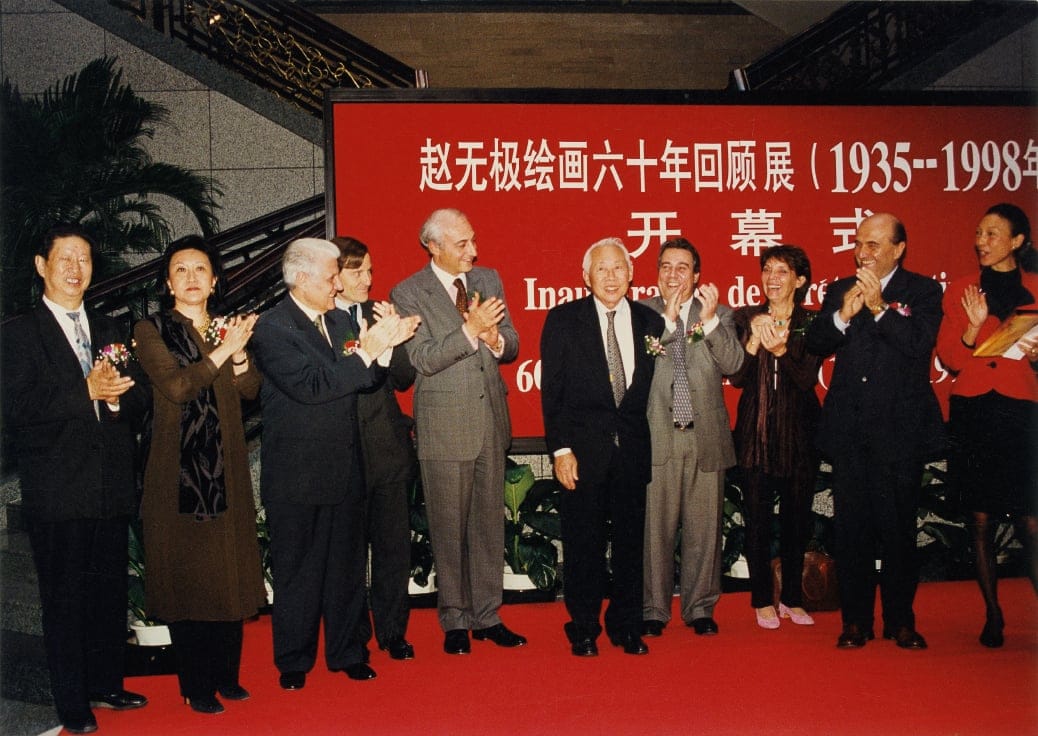 Exhibition opening in Shanghai, November 4, 1998. Rights reserved.
Zao Wou-Ki accompanied Jacques Chirac, President of the French Republic, on an official trip to China.
His work was included in the contemporary section of the major exhibition Chine, la gloire des empereurs,
at the Petit Palais, Musée des Beaux-Arts de la Ville de Paris.
Retrospective at IVAM in Valencia and the Musée d'Ixelles in Brussels.
Zao Wou-Ki was elected to the French Academy of Fine Arts, replacing Jean Carzou, and was received into the Academy November 26, 2003.
Exhibitions at the Marlborough Gallery in New York at the Taidehalli in Helsinki.
In Paris, the Galerie Nationale du Jeu de Paume held the first major French retrospective, including some 100 works from all over the world, seen by 135,000 visitors.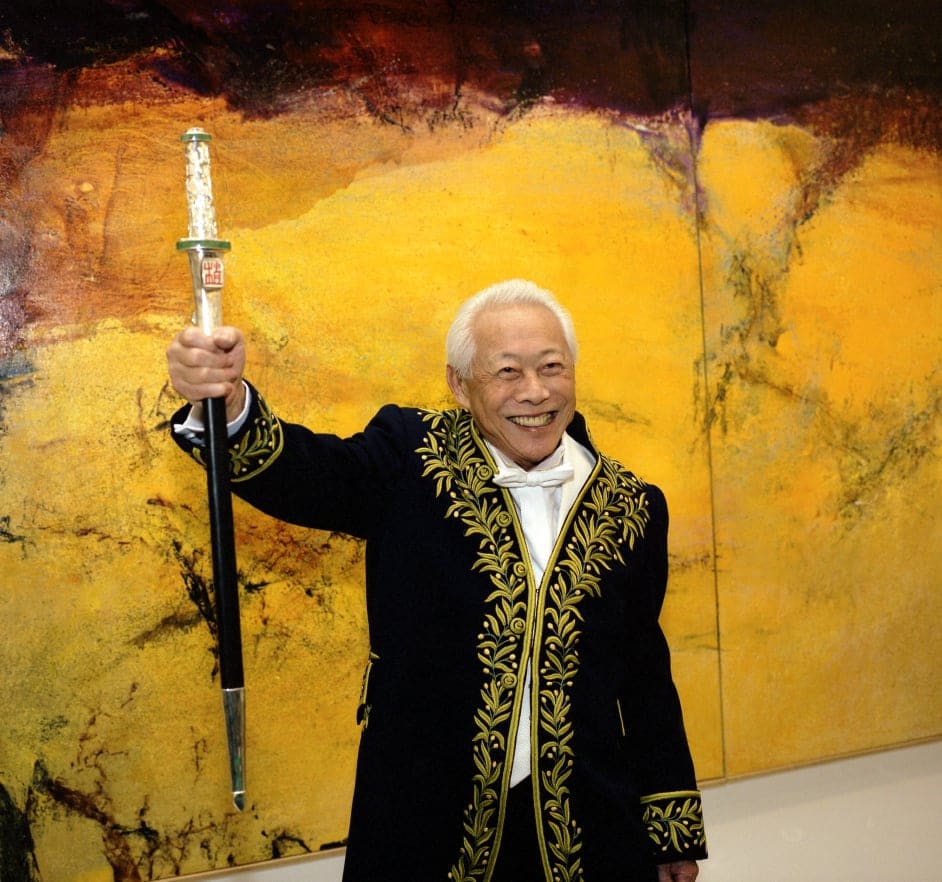 At the Galerie Nationale du Jeu de Paume with his triptych Mai-septembre 89 during
the presentation of the ceremonial sword of the Académie Française, November 26, 2003.
Photo Dennis Bouchard
Retrospectives at the Musée des Beaux-Arts de Dunkerque, the Musée Fabre in Montpellier, the Bridgestone Museum in Tokyo and the Espace Bellevue in Biarritz.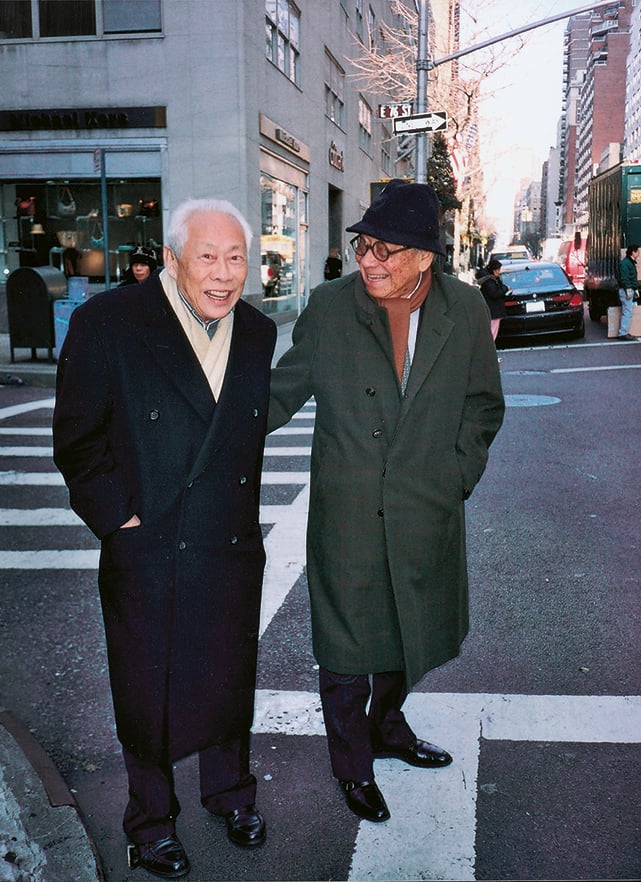 With his friend I.M. Pei in New York, 2005. Rights reserved.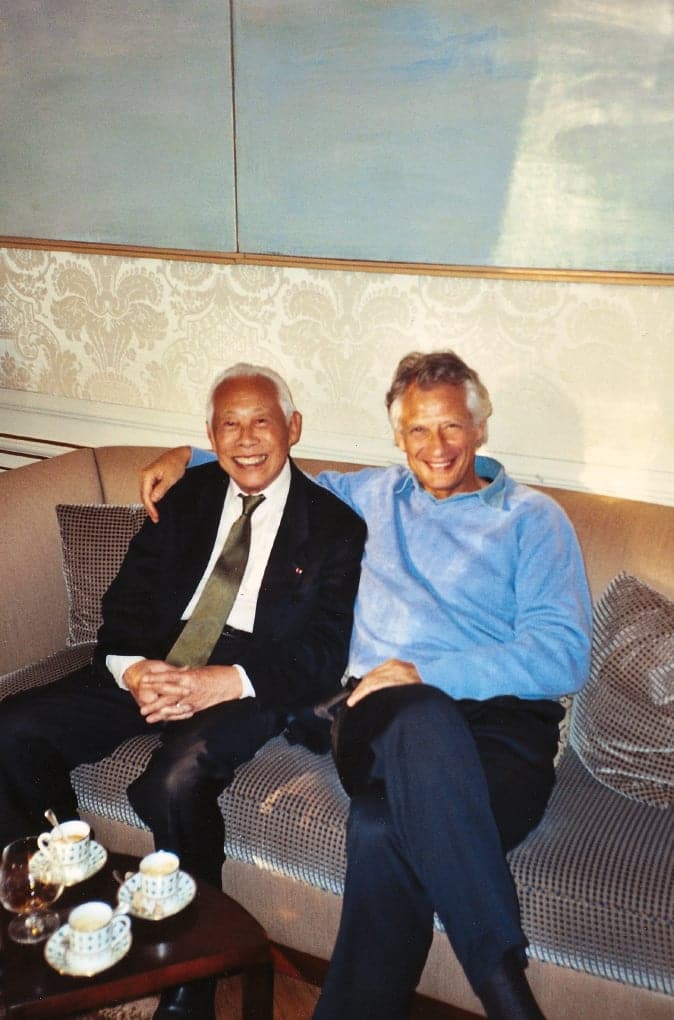 With Dominique de Villepin at Hôtel Matignon, 2005. Rights reserved.
I.M. Pei inaugurated the new Suzhou Museum in the city of Suzhou, China, with Black & White Dream, a presentation of Zao Wou-Ki's work.
Zao Wou-Ki was made a Grand Officier de l'Ordre de la Légion d'honneur by President Jacques Chirac.
Zao Wou-Ki completed two series of original vases for the Manufacture nationale de Sèvres. 
The wide-ranging retrospective of his work by the Bibliothèque Nationale de France in Paris traveled to the Suzhou Museum in China.
Exhibition at the Musée de l'Hospice Saint-Roch in Issoudun. 
He decided to stop working with oil paints.
A major monograph was published by Editions Flammarion, with an original critical text by Dominique de Villepin,
300 reproductions and an updated selection of texts written about Zao Wou-Ki's work.
Zao Wou-Ki made his last watercolors in the spring.
The triptych Hommage à Claude Monet (1991) was presented in the Pavillon France at the World Fair in Shanghai, together with a selection of masterpieces from the Musée d'Orsay.
Exhibition at the Árpád Szenes – Vieira da Silva Foundation in Lisbon.
The inauguration of the 14 stained-glass windows created by Zao Wou-Ki for the dining hall of the Prieuré de Saint-Cosme, near Tours, France, provided a showcase for Zao Wou-Ki's applied arts work, including pieces for Manufactures nationales de Sèvres and Les Gobelins and porcelaine pieces made with Ateliers Bernardaud in Limoges, France.
Zao Wou-Ki settled in Dully, Switzerland with Françoise.
Exhibition of recent watercolors alongside the triptych Hommage à Claude Monet at the Musée des Beaux-Arts de Rouen.
Zao Wou-Ki passed away in hospital in Nyon, Switzerland, April 9. In accordance with his wishes, his funeral took place at Montparnasse cemetery in Paris.
The Ishibashi Foundation paid tribute to Zao Wou-Ki by dedicating a room to him at the Bridgestone Museum of Art in Tokyo, Japan.
The city of Locarno in Switzerland presented the first retrospective of his work after his death, showcasing the collection bequeathed to the city by Swiss publisher and art dealer Nesto Jacometti. Zao Wou-Ki had worked with him from 1950 to 1965.
Zao Wou-Ki's work is now held in more than 150 collections, in 20 countries around the world.
Françoise Marquet and Yann Hendgen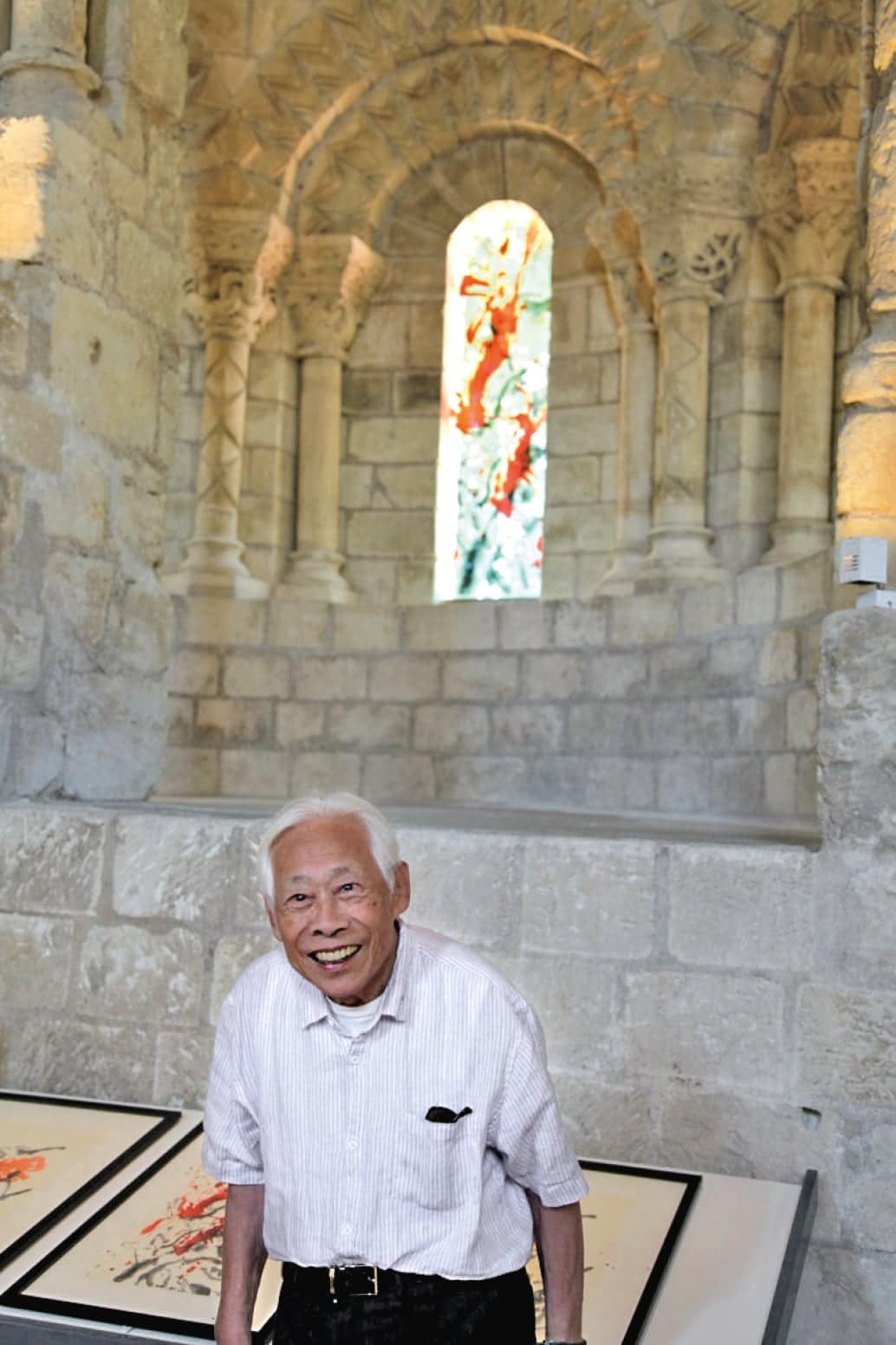 At the Prieuré de Saint-Cosme in Tours, with his stained glass windows in front of the pulpit, July 2010.
Photo Philippe Koutouzis